The Magical Optimism From The Asylum Room.
Probably the most famous painting created by Vincent Van Gogh, The Starry Night is a dimmed view from the window of his asylum room.
Due to the consistent emotional torment from people, Van Gogh checked himself into Saint-Paul Asylum, where nature brought him inspiration to create again.
The Starry Night Not A Failure.
Painted in 1889, Mr. Van Gogh called The Starry Night a failure, writing to his brother Theo:
"All in all the only things I consider a little good in it are the Wheatfield, the Mountain, the Orchard, the Olive trees with the blue hills and the Portrait and the Entrance to the quarry, and the rest says nothing to me."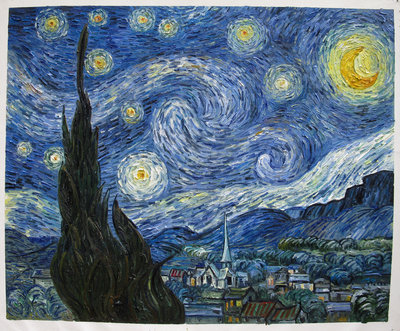 Hand-painted reproduction in oil on canvas of Van Gogh's Starry Night
Sadly, Theo did not try to dissuade his opinion:
"I clearly sense what preoccupies you in the new canvases like the village in the moonlight… but I feel that the search for style takes away the real sentiment of things."
How lucky we are that Vincent did not destroy this altruistic creation.
Even though Vincent Van Gogh was self deprecating about this piece, he created many sketches to carve out a general plan. While this painting depicts a seemingly tranquil night, everything from top to bottom pulsates with brim energy.
An incredible effect of the circular wind, combined with the general ascension from lower left to right, makes this a geometrical masterpiece. The artistic and intellectual element, though, is not forgotten.
Death to reach the star.
While most people focus on the stars that are ever so bright, the cypress tree seems to make the biggest impression on me. Without an understanding of their symbolic importance, one will never see the true magic in the
Starry Night
. The cypress tree is commonly associated with death. At first glance, these trees look like a smoky, burned fire ready to ravage a town.
But after reading a quote by Vincent Van Gogh, you realize that even in a sad occurrence like death, his magical optimism and altruistic creation will shine through.
"Looking at the stars always makes me dream. Why, I ask myself, shouldn't the shining dots of the sky be as accessible as the black dots on the map of France? Just as we take the train to get to Tarascon or Rouen, we take death to reach a star."
Author:
Arshak Andriasov
You may also like:
Starry Night by Vincent van Gogh