What does Starry Night mean to you? - Alireza
Alireza Karimi Moghaddam contributed a lot to our instagram account
@amazingstarrynights
with his amazing Starry Night cartoons. We asked him these questions:
What does Starry Night mean to you?
Alireza:
For me, Starry Night is a perfect symbol of imagination and technique. Imagination means the whole technique at the highest level of speech. I think an artist would like to have a combination of these two elements in presenting a work of art, and Van Gogh is the artist who has done it in the best possible way. Of course, along with these two elements, we should not ignore love.
Which other Van Gogh paintings do you admire?
Alireza:
In general, I love Van Gogh's paintings in Arles and St. Remy. All of these paintings are masterpieces. In these works, I see a combination of love and madness in painting.
How was it to create your Amazing Starry Night?
Aliraza:
I'm imitating Van Gogh. At this point, I feel like I'm talking to Van Gogh himself. He is by my side and I feel his presence. This painting is so full of mystery that if I copy it a thousand times, I won't get tired of it. I learn new things from it every time. Color recognition, movement, composition, light, and most importantly love.
Follow us on insta
Would you like to see more amazing starry night creations? Follow our instagram account
@amazingstarrynights
Would you like to see more of Alireza's work?
Follow his instagram
too! Posters of his beautiful cartoons are for sale at
www.fancyvangogh.com
.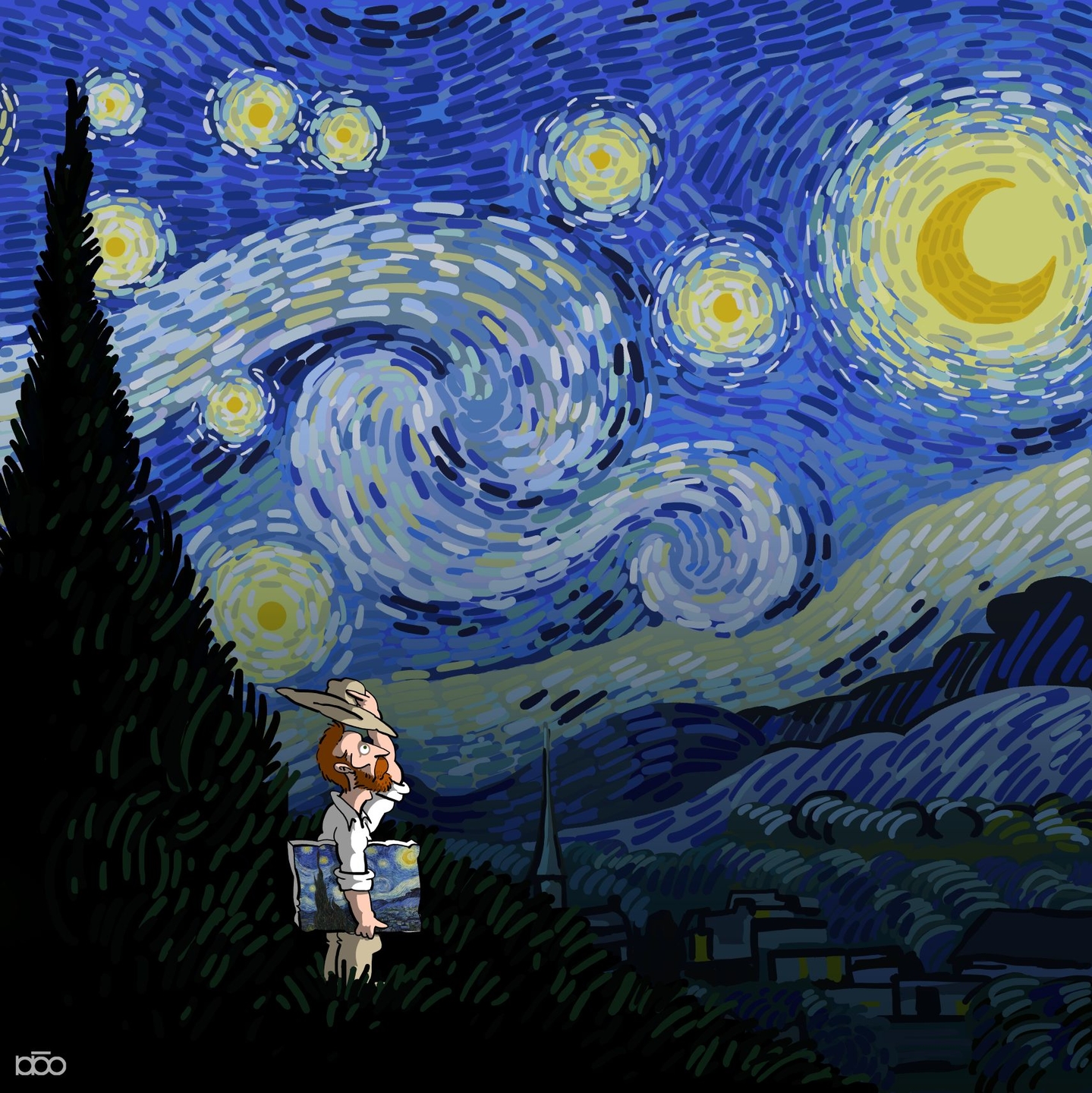 One of Alireza's Starry Night cartoons
Check out our Starry Night replica
Are you a Starry Night fan like Alireza? The original Van Gogh painting can be visited in the MOMA museum in New York.. and is not for sale. Our hand-painted Starry Night reproduction in oil on canvas could be the best alternative. You can
order it here
.
You may like to read more
interviews.