Japonaiserie: Bridge in the Rain
Bridge in the Rain is one of the few Japanese reproductions van Gogh painted. He would directly copy an already existing work, in this case a woodcut by the artist Utagawa Hiroshige.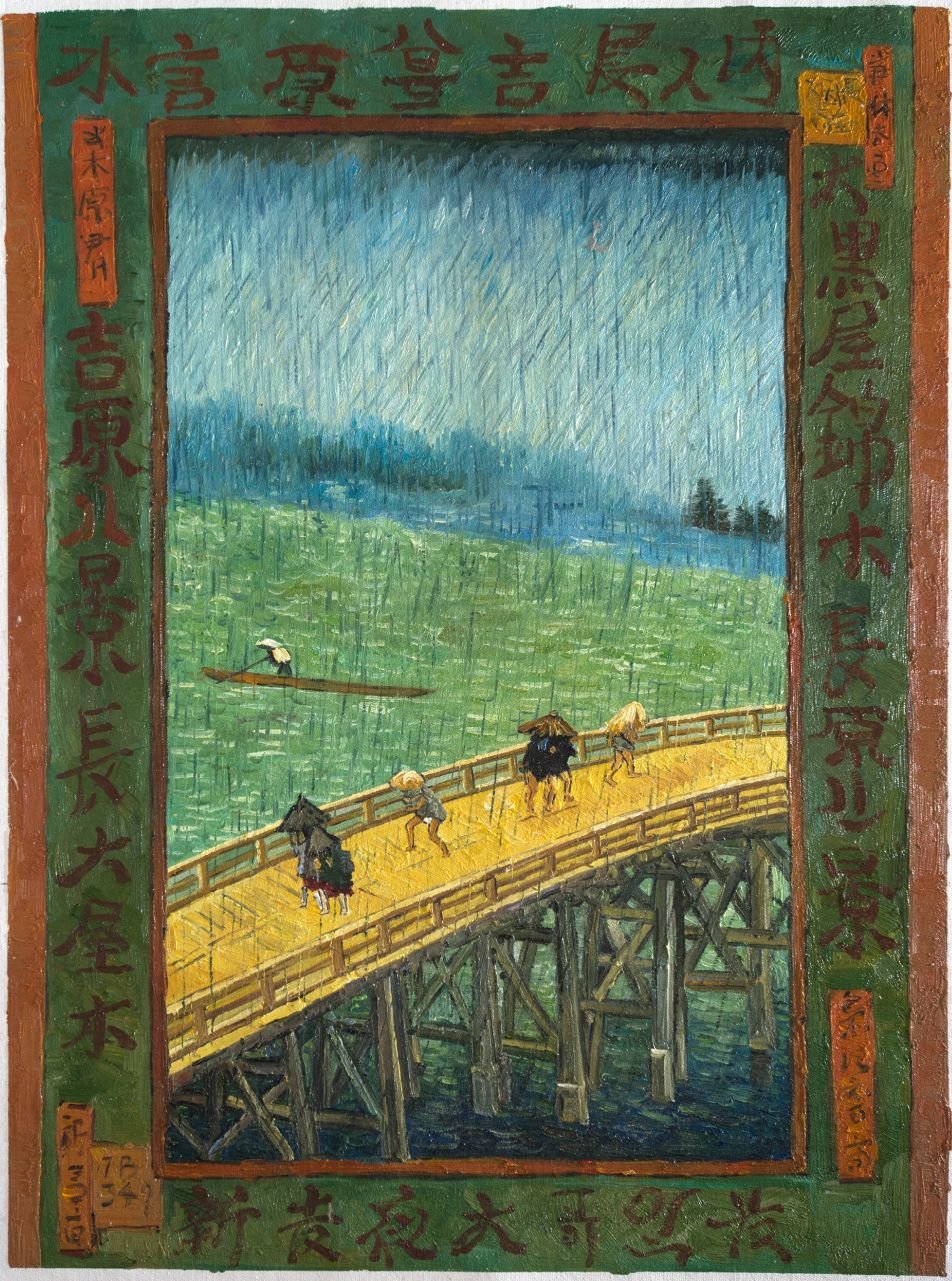 His love of Japanese art was well-known: "I envy the Japanese for the enormous clarity that pervades their work. It is never dull and never seems to have been made in haste.
Their work is as simple as breathing and they draw a figure with a few well chosen lines with the same ease, as effortless as buttoning up one's waistcoat…" Vincent van Gogh to Theo van Gogh, 24 September 1888.
Van Gogh adds more colour
Van Gogh would add more colour to these already colourful works, and the figures and shapes are also slightly re-worked, instead of following the style van Gogh always infused the works with his own sensibilities.
The shapes of the woodcuts would not fit directly onto the square canvases, so van Gogh added colourful borders, in this case a dark red.
He also added some Japanese characters over the border, though in fact they are Chinese (the Japanese use Chinese characters, along with two other alphabets), but they are his version of Chinese characters, often painted from memory (look out for a further blog post discussing the Vincent van Gogh-style Chinese character).
Vincent and Theo in Paris
Vincent and Theo collected many prints and woodcuts in their time together in
Paris
, where this work and many subsequent works were created, staying in his three bedroom apartment.
Paris being the centre of the art world at this time, it was always advantageous for Van Gogh to spend some time there, soaking up the latest movements and styles. Japanese art was in vogue, and many writers also used the work to discuss theories of culture, and philosophy of the times.
So it was no wonder that within this time in Paris Van Gogh took the next step with his art, and was able to move on from his 'Dutch palette' of grey tones, to a more colourful, vibrant and creative approach.
Buy Bridge in the Rain
Order your very own
Bridge in the Rain
, from our online shop, and be reminded of Van Gogh's journey as a painter, and an artist.
Recommended article:
Van Gogh and Japanese influence