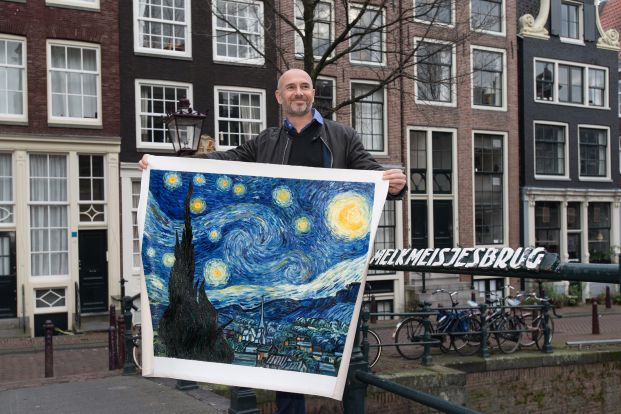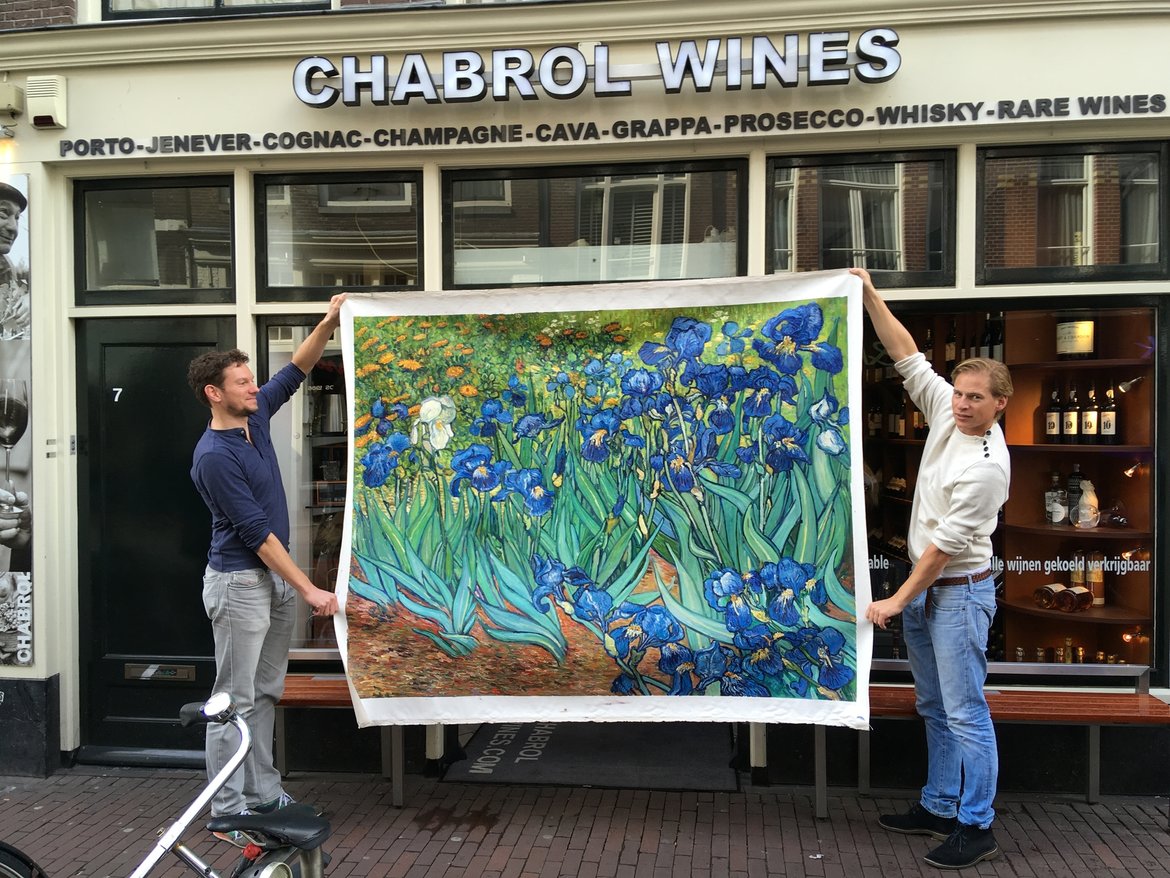 Erik van der Velde holding up Starry Night and Blossoming Almond Tree near Van Gogh Studio in Amsterdam. And Erik following his dream inspired by Vincent van Gogh. And an extra large version of Van Gogh's Irises, near the showroom.
We give you a Nineteenth Century feeling with your own Vincent van Gogh replica!
Van Gogh made an indelible contribution to the development of Modern Fine Art. Today, Van Gogh is an icon all over the world, representing The Netherlands and Western Europe as a major artist. The Van Gogh Museum, in the heart of Amsterdam, the Netherlands, is visited by millions of visitors every year, where they enjoy the original works by this nineteenth century Dutch Master.
A stone's throw away from the Van Gogh Museum.
Van Gogh Studio enables you to hang Vincent Van Gogh's paintings on your own walls. We work with Dutch and world artists, who have specialized in Van Gogh's unique style and painting technique. Years of research and experience have made our artists experts in the authentic reproduction of Van Gogh's paintings, so that now everyone can enjoy a museum quality Van Gogh. Van Gogh Studio will process your order only a stone's throw away from the Van Gogh Museum. The original paintings are right there when the Van Gogh fine art reproductions get their final approval before being sent off to you, where ever you are in the world.
89 selected Van Goghs
Van Gogh Studio selected, in consultation with its artists, 89 paintings out of Van Gogh's legacy, each of which are guaranteed to have an excellent reproduction quality. These 89 paintings represent the highlights of Van Gogh's work, with many of the originals displayed in Dutch museums like the Van Gogh Museum in Amsterdam and the Kröller-Müller Museum in Otterlo.
World Wide Service
Would you like another Van Gogh reproduced? Please let us know. Since 1994 we have been reproducing Van Gogh paintings for our customers in over 20 different countries and we love to start painting your favorite Vincent van Gogh painting for you.
Van Gogh Studio gives you a taste of nineteenth century European life right in your own home!