Did Vincent van Gogh have a drinking problem?
Between December 1888 and May 1889 Vincent van Gogh was hospitalized in Arles three times with severe mental problems. Last week researchers from the UMCG (University Medical Center Groningen) in The Netherlands suggested that Van Gogh's deliriums were linked to alcohol withdrawal.
Van Gogh to Paul Gauguin on 21 January 1889:
"In my mental or nervous fever or madness, I don't know quite what to say or how to name it, my thoughts sailed over many seas."
It is hard to draw conclusions about Van Gogh's medical state at that time without being able to speak to him. Fortunately the researchers had access to hundreds of Van Gogh's letters and information from the doctors who treated him, like Dr Rey.
Van Gogh's struggle with alcohol
Van Gogh's letters are not only a great source for researchers to find symptoms of possible diseases. The letters also show us how Van Gogh struggled with alchohol.
On 22 July 1888 Vincent wrote to his brother Theo:
"..if the storm within roars too loudly, I drink a glass too many to stun myself. It's being crazy, compared with what one ought to be."
This shows us that before he was treated in hospital, he was well aware that his drinking behavior was not good for him. And this was confirmed by his doctor according to his letter to Theo on Sunday, 24 March 1889:
"
Mr Rey
says that instead of eating enough and regularly I have been particularly sustaining myself with coffee and alcohol. I admit all that, but it will still be true that I had to key myself up a bit to reach the high yellow note I reached this summer."
A slippery slope?
Not much later on 21 April 1889:
"The frightful superstition of certain people on the subject of alcohol, so that they prevail upon themselves never to drink or smoke. We're already advised not to lie or steal and not to commit other great or small crimes, and it becomes too complicated if it was absolutely indispensable not to possess anything but virtues in a society in which we're very indubitably rooted, be it good or bad."
Do we see Van Gogh getting trapped here into the logical fallacy of the slippery slope? Reasoning like 'If they forbid this, then the next thing we know..' rarely leads to wisdom. And when Van Gogh mentions 'the frightful superstition of certain people', does this reveal behavior as we see with some conspiracy theorists who find it simply too hard to refrain from what's bad for them?
But Dickens said..
A month later Van Gogh liked to quote English writer Charles Dickens in a letter to his sister Willemien:
"Every day I take the remedy that the incomparable Dickens prescribes against suicide. It consists of a glass of wine, a piece of bread and cheese and a pipe of tobacco."
A healthier approach could have been Oscar Wilde's take on the addictive nature of alcohol:
"Work is the curse of the drinking classes."
So Van Gogh had a drinking problem. And in a letter to Willemien from the asylum in Saint-Rémy on 21 October 1889 he acknowledges the bad influence of alcohol:
"The doctor from here has been to Paris and went to see Theo, he told him that he does not consider me a lunatic but that the crises I have are of an epileptic nature. So it isn't alcohol either that was the cause, although of course it doesn't do one any good."
We will never know exactly.
The recent research was published in the
International Journal of Bipolar Disorders
. The researchers were aware that Van Gogh's letters were written to his family and friends. He may have downplayed the situation to reassure them. We will probably never know what his life was like exactly, but Van Gogh's letters are a very valuable source to learn about his paintings. And to admire his enormous willpower, resilience and perseverance.
Van Gogh's letters at vangoghletters.org/vg/
Not many people can afford a real Van Gogh painting. But a hand-painted replica in oil on canvas is within reach for a lot of Van Gogh fans. You may like to read through
Van Gogh's letters
while looking at your own 'Van Gogh' now and then. Check out our
most popular
reproductions, or our Van Gogh reproductions
in stock
for immediate shipping.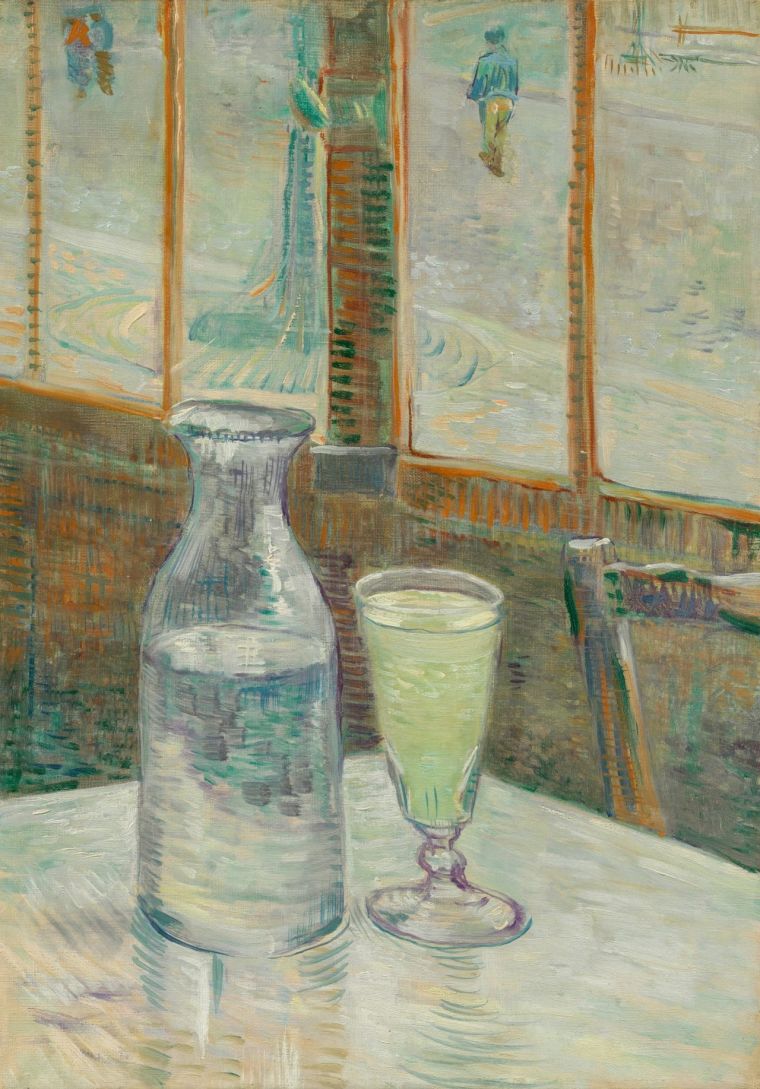 Van Gogh's painting 'Café Table with Absinthe'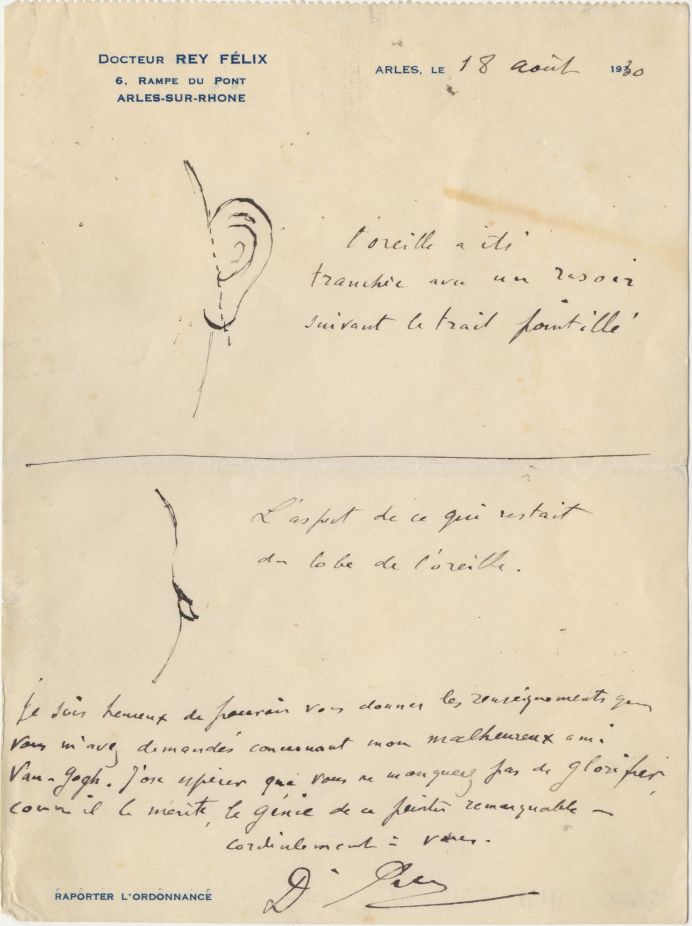 Dr Rey's letter with
Van Gogh's ear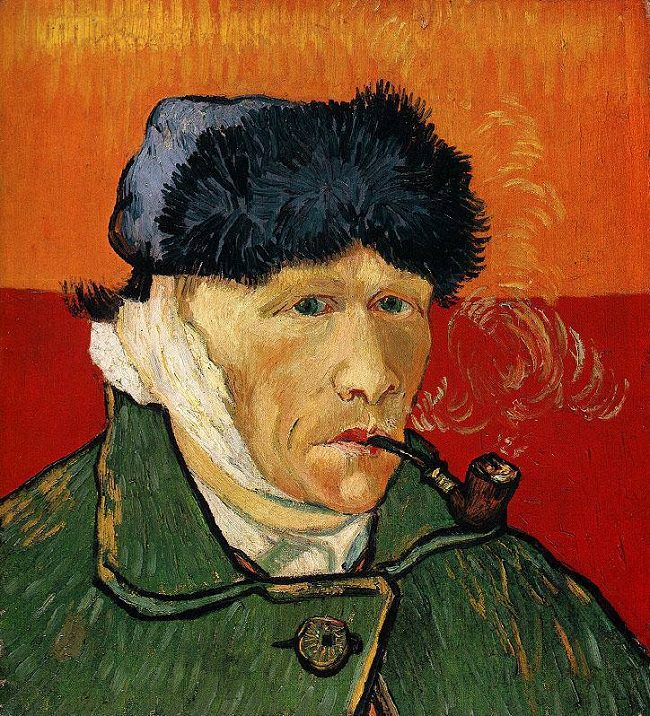 Self-Portrait with Bandaged Ear and Pipe
.
You may also like to read:
Your Daily Dose of Van Gogh
What did Vincent van Gogh write on this day?
Find out in your
FREE Van Gogh e-book
.
Hundreds of questions answered by Van Gogh himself!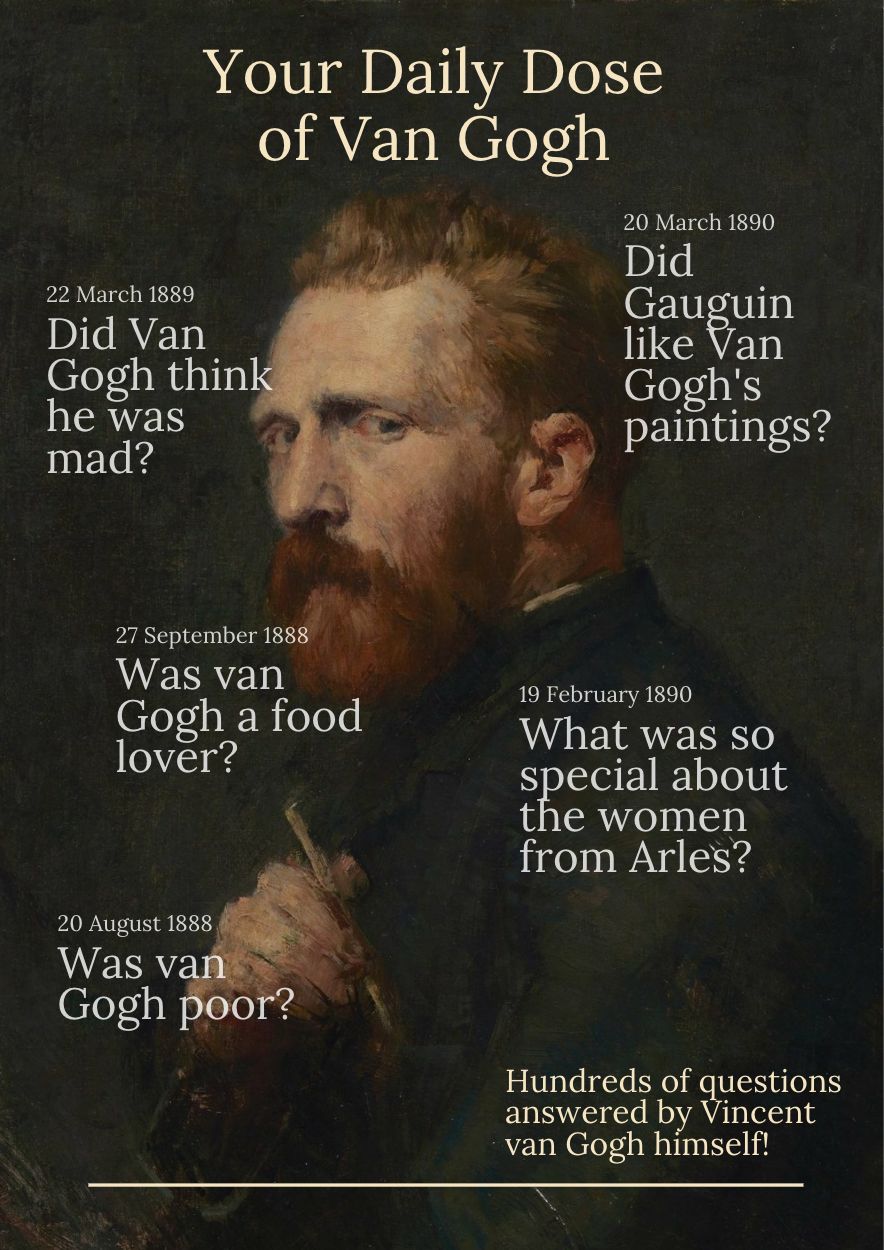 Your Daily Dose of Van Gogh
What did Vincent van Gogh write on this day?
Find out in your
FREE Van Gogh e-book
.
Hundreds of questions answered by Van Gogh himself!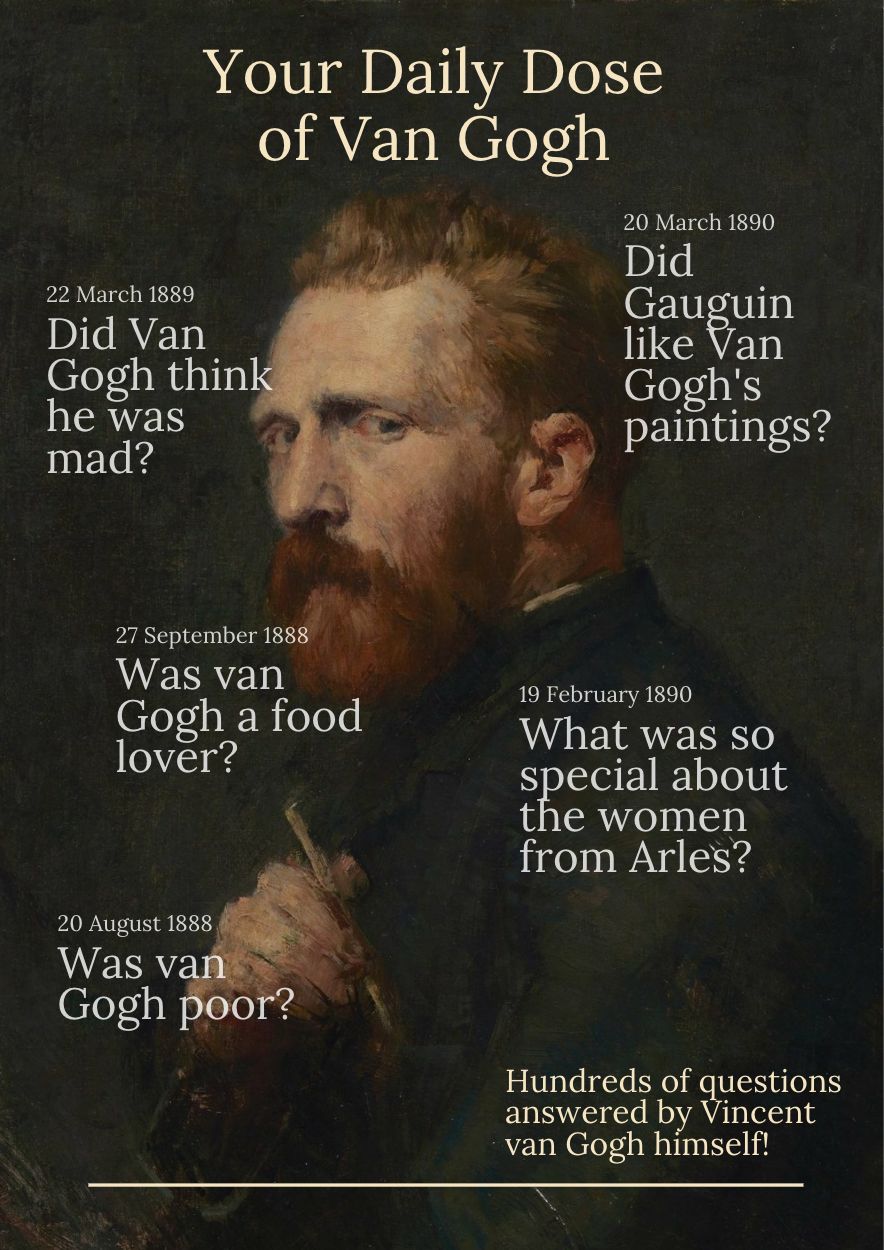 Johannes
- 28-04-2023
Alcohol or no alcohol - This artist will always remain one of the most important painters on this planet.