How long did it take Van Gogh's oil paintings to dry?
Vincent van Gogh's oil paintings needed weeks to be dry enough to send them to his brother Theo. They shipped by train in piles and the paint would still be crushed (impacted impasto). And thick oil paint can actually still not be completely dry after 18 months.
Today 133 years ago, on 16 September 1888,
Vincent van Gogh wrote to Theo from Arles:
"..there'll be paintings that I really don't want to send you before they're as dry as a bone. In this last category is a no. 30 square canvas of a corner of a garden with a weeping tree, grass, round-trimmed cedar bushes, an oleander bush. Therefore the same corner of a garden of which you already have a study in the last consignment. But as it's larger, there's a lemon-coloured sky above it all, and then the colours have the richness and intensities of autumn. Then it's done in much heavier impasto, plain and thick."
The Poet's Garden
Arles, 1888
Oil on canvas
73 x 92,1 cm
Art Institute of Chicago
You may also like to read: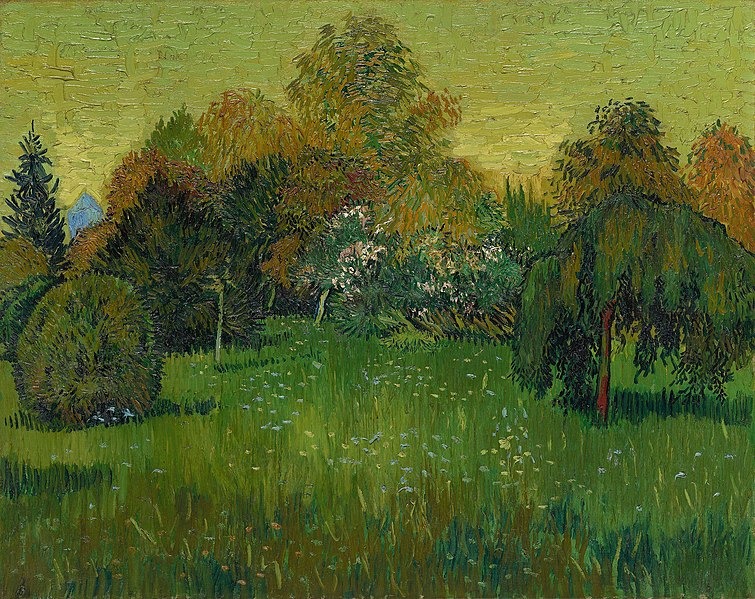 Van Gogh's '
The Poet's Garden
'.
<< previous
|
next >>
Your Daily Dose of Van Gogh
What did Vincent van Gogh write on this day?
Find out in your
FREE Van Gogh e-book
.
Hundreds of questions answered by Van Gogh himself!