Vincent Van Gogh Paintings at The Museum of Modern Art
MoMA or The Museum of Modern Art, in New York City, is one of the most influential museums of modern art in the world. MoMA's collection of Contemporary and Modern Art holds some of the most famous and important Western masterpieces of the last 100 years.
The museum too has had a great impact on how Van Gogh's work has been viewed by the art world, and has helped bring his work to new audiences. In particular, they held a solo show of Van Gogh's work and life in 1935. They exhibited 66 paintings, 50 drawings as well as excepts from his letters to Theo. The show was a huge success and helped shape how the world from that point on would view Van Gogh's artistry and legacy. They currently own one of the most famous, and most viewed paintings of the world,
Starry Night
, by Vincent Van Gogh.
Vincent van Gogh replica oil paintings for sale
Don't forget if you would like to have your very own hand-painted reproduction of this Van Gogh masterpiece, order from our extensive catalogue of Van Gogh's works.
Starry Night
is mesmerizing view of a night sky. It has been identified to be the view from his
bedroom
window in the Saint-Paul-de-Mausole lunatic asylum, a place he had voluntarily admitted himself after his 1888 breakdown. Unlike many of his other works that have gone on to be masterpieces, Van Gogh said very little about the painting in his letters to Theo, only referring to have done a 'night study'.
This masterpiece has been the topic of many different interpretations. It is believed his time with
Paul Gauguin
opened his mind a little toward abstraction, and this resulted in a beautiful flowing sky of light trails and abstract patterns. Scientists have studied the painting and now believe Van Gogh could well have been painting fluid turbulence, a natural phenomena. This video explains their findings:
https://www.youtube.com/watch?v=PMerSm2ToFY
Van Gogh Studio
Based in Amsterdam, we offer high quality Van Gogh reproductions. Like many people around the world we are moved by Van Gogh's life and work. Our team of local and international artists study both his techniques and his ever-changing outlook on the world, as we work hard everyday to bring his vision again to the canvas.
We have shipped to over 20 countries around the world to many happy customers. There is no better way to celebrate your love of Van Gogh than to have your very own. We think you will be impressed by our work.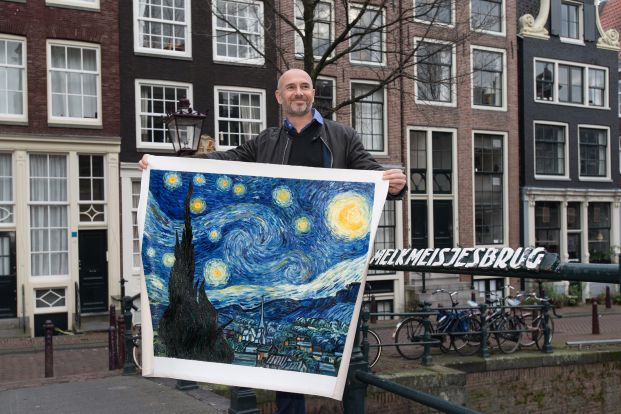 Where the original Starry Night is in New York, a hand painted reproduction of the original Van Gogh painting is in Amsterdam and is ready to be shipped to you.
Check out all other
paintings in stock
.