The story behind the Blossoming Almond Tree
The Blossoming Almond Tree is one of Van Gogh's most well-known paintings. Created in 1890 as Van Gogh was recovering at the Saint Paul Asylum in Saint-Remy in the south of France.
These were in fact tough times for Van Gogh, but when he received the news his brother and patron, had welcomed a child into the world his mood changed. In his letter Theo wrote: As we told you, we'll name him after you, and I'm making the wish that he may be as determined and as courageous as you.'
New life
Van Gogh was thrilled and set about marking this moment in time with a painting. The
Blossoming Almond Tree
was born. It is a painting that is full of hope, with it's branches curling in front of a blue sky, the flowers too blooming.
The tone of blue in this painting is remarkable; it jumps from the canvas and gives the painting a strong symbolic nature. The framing of just a section of the tree, and the bold outlines used share some of the ideas and techniques Van Gogh learnt from his love of
Japanese art
(which will be talked about in more detail in an upcoming post).
It also was a great way to play with one of his favourite themes: rebirth.
Trees blooming and flowering
announces the beginning of spring and new life, and this is what Van Gogh wished for his new nephew, and perhaps more importantly for himself.
The only one
After such a strong work, Van Gogh again fell down into bad health. He had hoped to continue to paint trees and plants in bloom, and perhaps make a series of these, but by the time he had recovered enough to pick up the brush, the season had changed.
This then is the only one Van Gogh managed to paint in this style.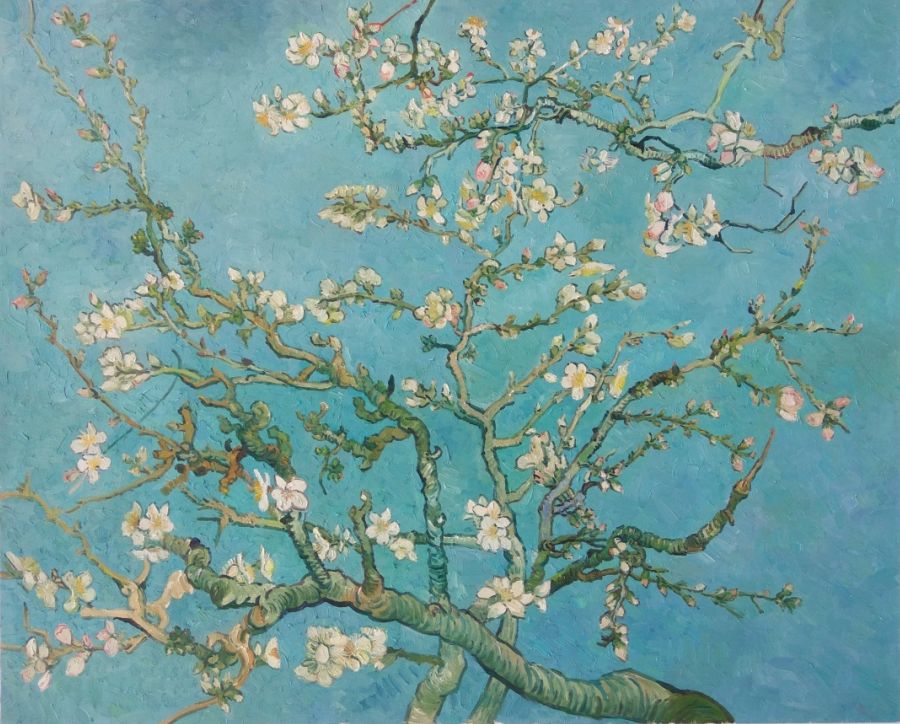 Blossoming Almond Tree
hand-painted reproduction in oil on canvas.
Young Vincent
The painting is famous the world over, and you would indeed need to have a hardened heart not to be moved by it. From a letter from Johanna, the wife of Theo, even the newly born Vincent: "… always looks with very great interest at Uncle Vincent's paintings."
The young Vincent, once grown up, went on to create the Van Gogh Museum, in Amsterdam.
Bring Van Gogh's spring to your home with a hand-painted reproduction.
The original Van Gogh painting can be visited in the Van Gogh Museum in Amsterdam... and is not for sale. Our hand-painted Blossoming Almond Tree reproduction in oil on canvas could be the best alternative. You can
order it here
.