testimonial self-portrait – Paolo Klein
INTERVIEW – PAOLO
At Van Gogh Studio we received an unusual request. Paolo, a past customer of ours, had seen an image on the front of a leaflet. It was for an exhibition of Van Gogh's works, the image was a Van Gogh self portrait that was changed slightly from the original.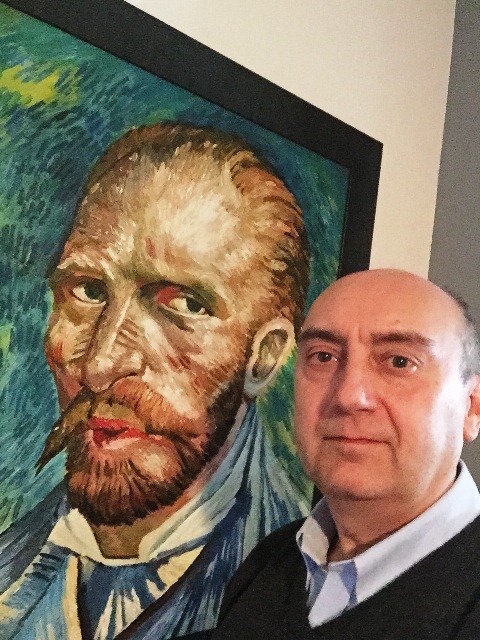 Paolo was taken with this variation on the well known work, and wanted an 'original' Van Gogh reproduction! Here's an interview Van Gogh Studio conducted with Paolo, to find out more about this curious request, and his love of all things Van Gogh.
Firstly Paolo, what led you to order from Van Gogh Studio?
I've known Van Gogh Studio since 2006. For that painting in particular, in Milan, there was a Van Gogh Exhibition "L'uomo e la terra" whose advertising leaflet had a self-portrait.
This image doesn't match the original, the colors are stronger. I contacted Erik Van Der Velde in order to have a copy of it. And one of his artists made it! I am so lucky and proud to have a "one and only" Van Gogh self-portrait.
How was the process of dealing with Van Gogh Studio, did you have any worries at all?
I emailed Van Gogh Studio with some pictures and then Erik suggested some possible alternative solutions, and together we found the best one.
What was it like to receive the painting, how did you feel when you first laid eyes on it:?
Erik was so kind to send me a picture before sending the painting, considering the fact that it is not a reproduction of an original painting, but a creative variation. The picture was amazing, but when I received the painting I was really impressed. I was really astonished!
How did you decide where to put it?
Having another 5 Van Gogh painting bought from Van Gogh Studio, I decided to put it in a very particular area of my living room. Ideally in the middle of the other reproductions. When my family, my friends and I are sit down we can see the self-portrait.
What has has the response been like from your friends and guests? Can you share any with us?
Surprise because there are no other
self-portraits
like this! This is unique and I have it!
How do you feel when you see your artwork on a normal day?
I can imagine him during his work in
Saint-Rémy-de-Provence
or
Arles
and the great pain he put into all his paintings. And the great technique used!
And finally is there anything else you would like to tell us in relation to the painting, Van Gogh, or art in general?
A copy of a painting is the best way to appreciate a painter and to have the opportunity to see it every day.
When owning a painting, even if it is a copy from the original there are 3 considerations:
to get to know the painter. You need to understand his life and the environment where he lived. In fact last summer we spent our vacation in southern France to visit all Van Gogh sites, Arles, Saint-Rémy-de-Provence, houses, hospital etc.

to see and appreciate all original paintings. Museums, exhibitions and events are the best ways to understand and appreciate the painter. Sometimes it happens that in front of the original painting we say "we have it!!!" and in this way we can continue to appreciate the art work and the painter at home.

find someone that can share with you these feelings. Van Gogh Studio work with some great artists to obtain the best alternative to a real Van Gogh