To whom did Van Gogh give his Pink Peach Tree?
Vincent van Gogh signed his painting 'Pink Peach Tree in Blossom' with Souvenir de Mauve. In The Hague in 1881 his cousin Anton Mauve taught Vincent to paint with oils.
When Mauve died 7 years later Van Gogh dedicated his colorful Pink Peach Trees to Mauve and sent the painting to Mauve's widow Jet.
Today 138 years ago, on or about 16 December 1883,
Vincent van Gogh wrote to Theo from Nuenen:
"My dear Theo, Mauve said to me at the time, 'you'll find yourself if you keep on working at art, if you go into it more deeply than you have done so far'. He said that 2 years ago. I think a lot about those words of his these days."
Pink Peach Tree in Blossom
(Souvenir de Mauve)
Arles, 1888
Oil on canvas
73 × 59.5 cm
Kröller-Müller Museum, Otterlo
You may also like to read: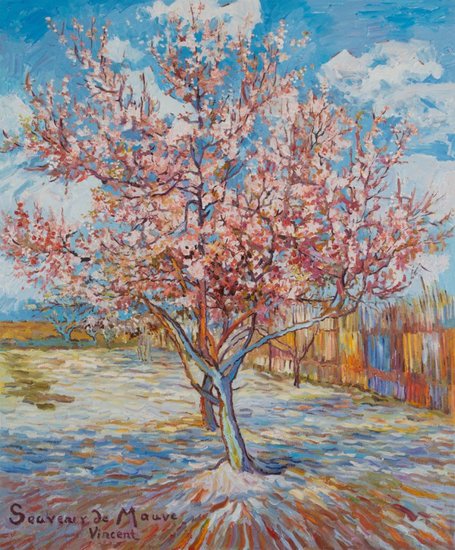 Our hand-painted reproduction of Van Gogh's '
Pink Peach Tree in Bloom
'
Your daily dose of Van Gogh.
<< previous
|
next >>