Van Gogh reproduction or forgery?
Two Van Gogh paintings were stolen from the Van Gogh Museum in Amsterdam in 2002:
'Seascape at Scheveningen'
(1882) and '
Congregation Leaving the Reformed Church in Nuenen'
(1884). In 2016 they reappeared in the Naples home of an Italian mob boss and they were returned to the Van Gogh Museum in 2017. We wrote about the remarkable discovery of the paintings in a
previous blog
.
Film about the theft from Van Gogh Museum
This year a six part documentary series will be shot named ART CRIMES, which shows the most unbelievable art robberies of the century. It's an international co-production between arte/rbb and SKY Italia. Van Gogh Studio was approached to reproduce the Seascape at Scheveningen to appear in an episode. Obviously the original painting by Van Gogh, worth millions and part of art history, can't be used for the film.
Reproduction or forgery?
We strive to make reproductions in oil on canvas that resemble original Van Gogh paintings in terms of color, detail and brushstroke as close as possible. But for the film we wanted to go further than that. A perfect forgery was not necessary, but at least the painting needed to look as old as the original Van Gogh. These tricks did the job:
Old Canvas

We wanted not only the painting to look old, but also the canvas. So we used canvas as old as we could find and put extra stains on it. A rusty steering wheel from a bicycle and old cooking gear were just what we needed.
Beach sand

Van Gogh painted the 'Seascape at Scheveningen' (also called 'View of Sea in Scheveningen' and 'Beach at Scheveningen in Stormy Weather') at the beach. Little bits of sand can still be found in the paint. My 8-year-old nephew Moos has been very helpful with collecting beach sand and applying this carefully onto the replica (on mobile scroll down for photos).
Antique oil

Finishing the painting with a layer of antique oil gave the painting an older look as well. This worked out even better than expected. Definitely something to add to our usual production process when there is demand for an old look replica.
Doormat

Geert Jan Jansen is a world famous (ex) forger and our Van Gogh premium collection painter. In his biography he described how useful a doormat can be to make a painting look decades older. Again my nephew was there to help out and feels like a professional forger now.
Order your own forgery
It will be a while until the film is released. In the meantime we are happy to paint
'Seascape at Scheveningen'
for you. Plenty of beach sand left so we could go for the extra old look.
In a letter to his brother Theo, Vincent van Gogh wrote in The Hague, Sunday, 3 September 1882:
'Paris and its surroundings may be beautiful, but we can't complain here either. This week I painted something which I believe may give some idea of the impression of Scheveningen as we saw it when we walked there together. A large study of sand, sea, sky — a big sky of delicate grey and warm white through which an occasional spot of soft blue shines — the sand and the sea light — so that the whole becomes blond, though enlivened by the bold and distinctively coloured figures and pinks, which take on tone.'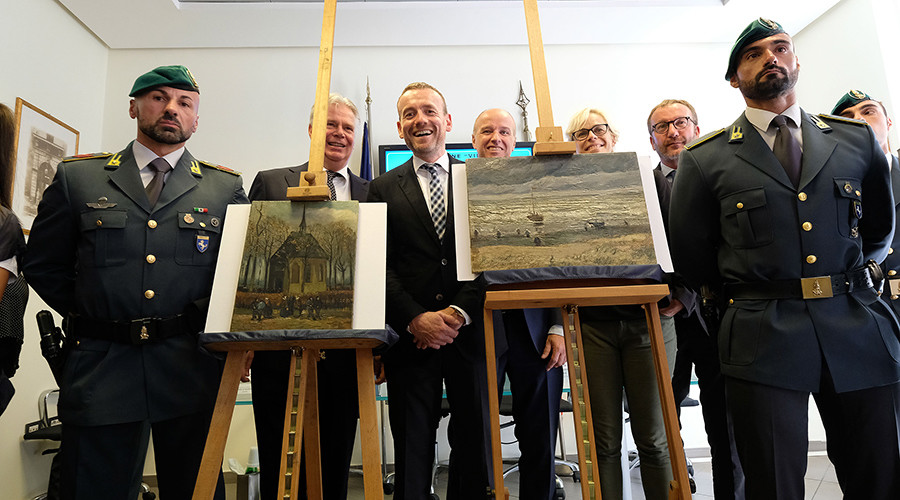 You may also like to read:
Stolen van Gogh paintings found.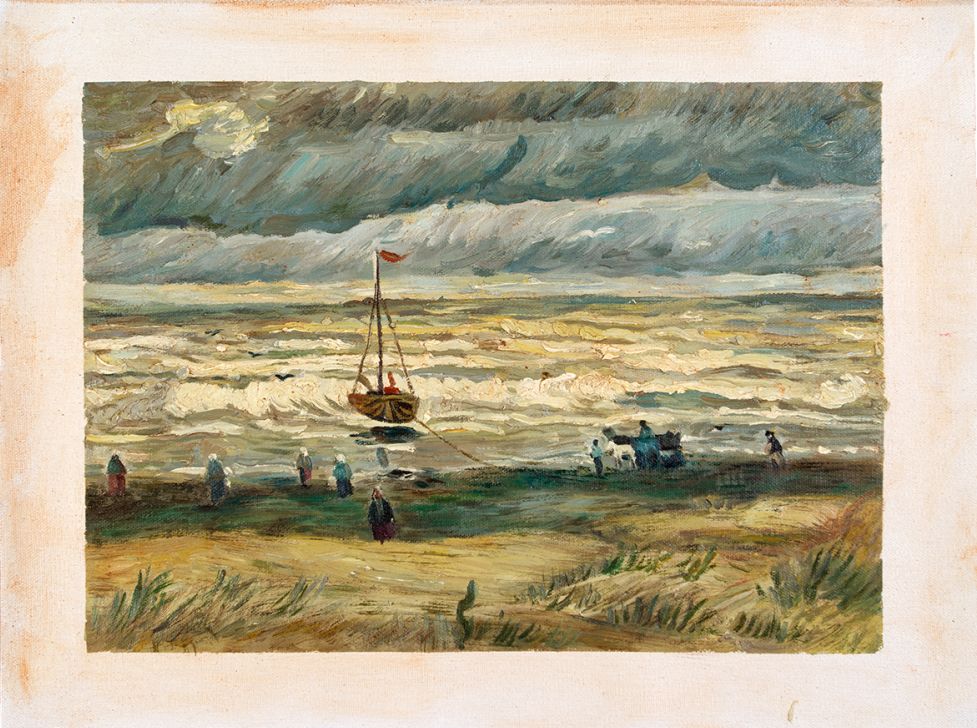 Our reproduction of Van Gogh's
'Seascape at Scheveningen'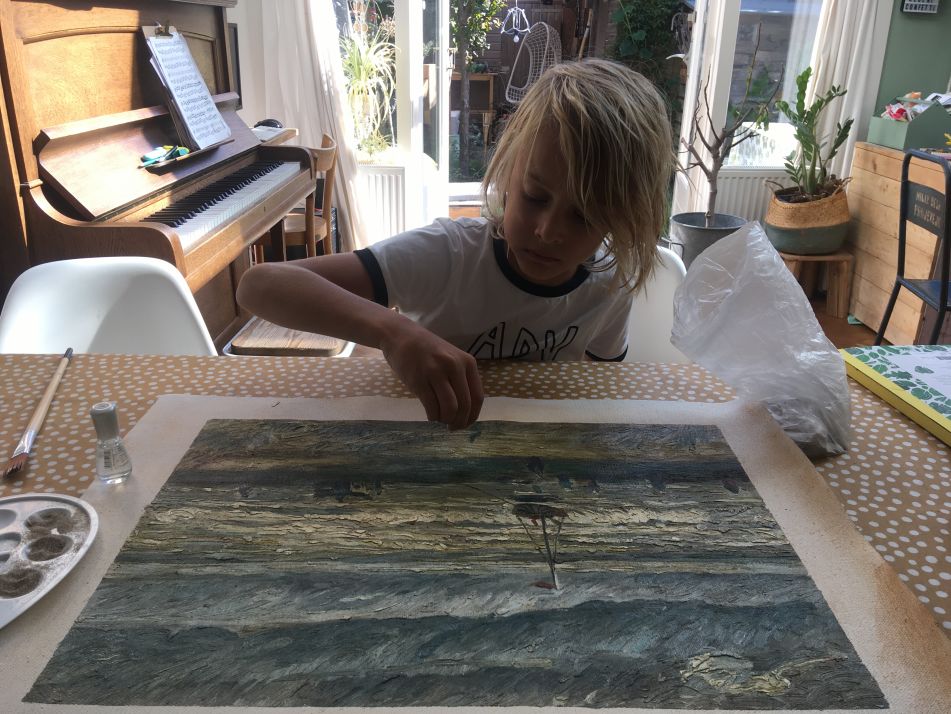 Beach sand carefully applied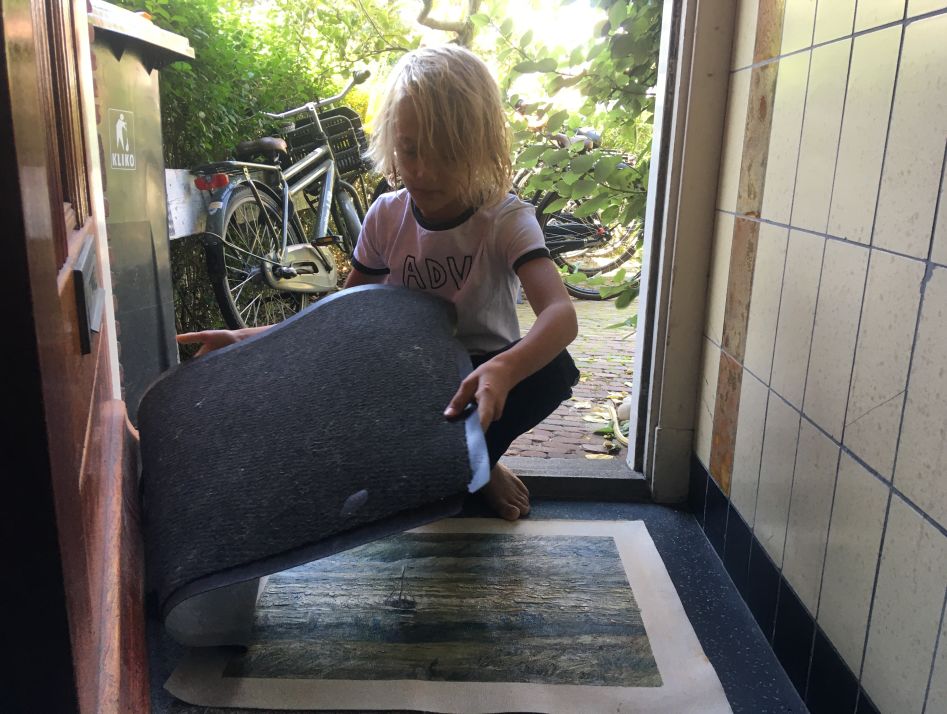 Moos executing the doormat trick to make the reproduction look older.
Harry Granger
- 29-10-2020
Am very interested in the documentary series! And your nephew could be a great art forger by the looks of it ;-)