Who influenced Van Gogh most?
Van Gogh was influenced by Millet, Monet, Gauguin and many others, but most of all perhaps by the Japanese artist Hiroshige (1797 - 1858).
Van Gogh in his letter to his brother Theo in September 1888:
"Just think of that; isn't it almost a new religion that these Japanese teach us, who are so simple and live in nature as if they themselves were flowers? And we wouldn't be able to study Japanese art, it seems to me, without becoming much happier and more cheerful, and it makes us return to nature, despite our education and our work in a world of convention."
Learn from the best, just like Van Gogh did.
Van Gogh learned from Japanese art and it developed Van Gogh's style of painting a lot. Japanese art inspired him to paint a few Hiroshige's woodblock prints in his own new style. Only two years before he painted the very dark Potato Eaters.
Van Gogh liked the large areas of simple colors and bold outlines, the strong colors and the attention to details from nature as well as the atmosphere of the oriental art.
His changing style would lead to painting his most famous paintings from 1888 - 1890, which we now call 'the typical Van Gogh
Monet, Manet and Van Gogh studied Hiroshige's work closely and learned from it . Just like these old masters we like to learn from them. Our artists try to copy van Gogh's paintings as good as possible, mastering his technique.
Some of our artists stick to copying forever and try to paint the perfect replica once in their life with immense respect to the original artist.
But most of our artists strive for a career of their own original art. Replicating Van Goghs and
other old masters
perfects their technique which is very important to succeed as an artist.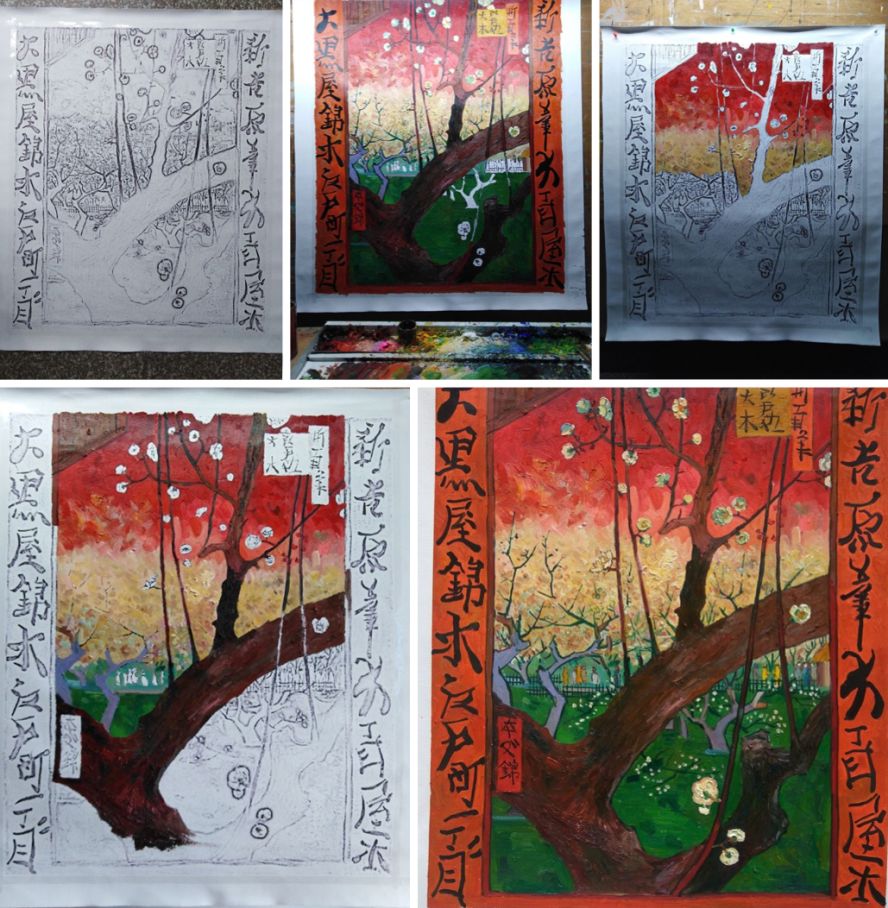 The step by step process of our hand-painted replica of Van Gogh's 'Flowering Plum Tree'.
Order your favorite Van Gogh.
The
Flowering Plum Tree
is one of the
popular Van Gogh paintings
. Check out our
full collection
. Or
contact us
if your favorite Van Gogh is not listed.
You may also like to read:
Your Daily Dose of Van Gogh
What did Vincent van Gogh write on this day?
Find out in your
FREE Van Gogh e-book
.
Hundreds of questions answered by Van Gogh himself!