Did Van Gogh paint the asylum in Saint-Rémy?
When Vincent van Gogh was a patient at the Saint-Paul asylum in Saint-Rémy-de-Provence, most of the time he wasn't allowed to leave the premises to paint. So Van Gogh painted views of the surrounding wheat fields, a series of pine trees in the hospital garden, the undergrowth, flowers like irises, roses, poppies, several still lifes and also butterflies and a moth.
In winter he made copies of Rembrandt and Millet. His 12 month stay in the asylum turned out to be very productive as he made no less than 150 new paintings.
Today 132 years ago, on or about 26 November 1889,
Vincent van Gogh wrote to Emile Bernard from Arles:
"Here's description of a canvas that I have in front of me at the moment. A view of the garden of the asylum where I am, on the right a grey terrace, a section of house, some rosebushes that have lost their flowers; on the left, the earth of the garden — red ochre — earth burnt by the sun, covered in fallen pine twigs. This edge of the garden is planted with large pines with red ochre trunks and branches, with green foliage saddened by a mixture of black. These tall trees stand out against an evening sky streaked with violet against a yellow background."
There are 2 versions of 'The garden of the asylum'. One resides in the Folkwang Museum in Essen. The other one in the Van Gogh Museum in Amsterdam.
The garden of the asylum
/ The garden of Saint Paul's Hospital
Saint-Rémy, 1889
Oil on canvas
71,5 x 90,5 cm
Van Gogh Museum, Amsterdam
You may also like to read: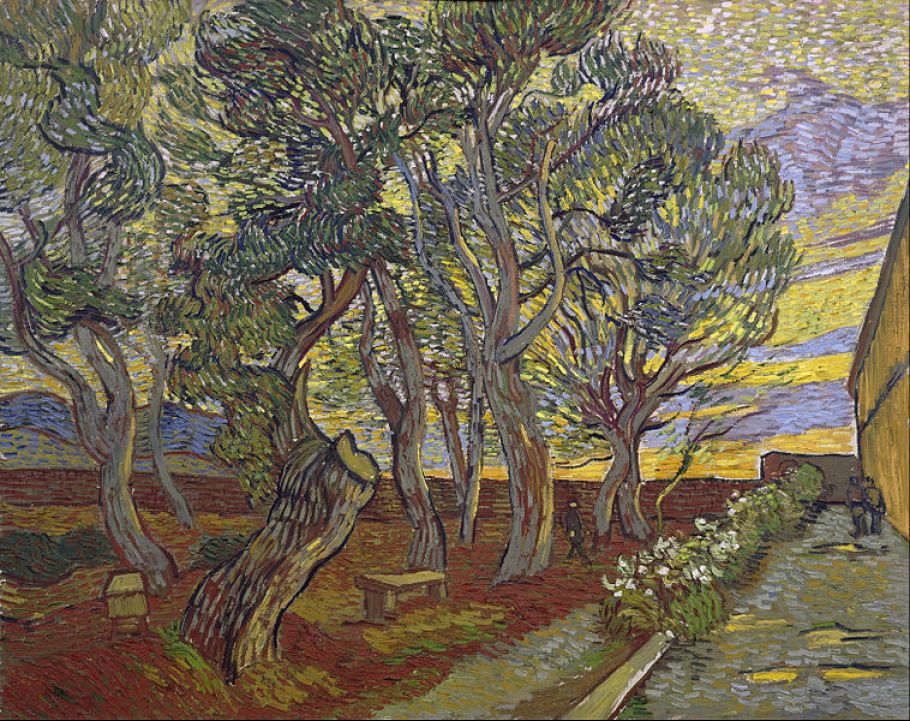 Van Gogh's '
The garden of the asylum
'
<< previous
|
next >>
Your Daily Dose of Van Gogh
What did Vincent van Gogh write on this day?
Find out in your
FREE Van Gogh e-book
.
Hundreds of questions answered by Van Gogh himself!