Did Vincent van Gogh kill himself?
Vincent Van Gogh died at age 37 on 29 July 1890 in Auvers-sur-Oise. What happened 2 days before we will never know exactly. Was it suicide? Was it murder? According to letters from Dr Gachet, his brother Theo and his friend Emile Bernard it was Vincent who shot himself.
What did Dr. Gachet say?
Dr. Gachet wrote to Theo on 27 July 1890:

"Today, Sunday, at nine o'clock in the evening I was sent for by your brother Vincent, who wanted to see me at once. I went there and found him very ill. He has wounded himself . . . it is your duty to come."
What did his brother Theo say?
Theo wrote to his wife Jo three days later after he had spoken to Vincent before he died:

"One of his last words was: this is how I wanted to go and it took a few moments and then it was over and he found the peace he hadn't been able to find on earth."
What did his friend Emile Bernard say?
Emile Bernard attended Vincent's funeral and spoke to Dr Gachet. On 31 July 1890 he wrote to Albert Aurier:

"Dr. Gachet told him that he still hoped to save his life, he said, "Then I'll have to do it over again."

and:

"He killed himself. On Sunday evening he went into the countryside around Auvers, placed his easel against a haystack and went behind the château and fired a revolver shot at himself." Vincent had "done it in complete lucidity", with a "wish to die"
Did Van Gogh commit suicide or was it murder?
If it was murder instead of suicide, why would Dr Gachet or Theo not write about this? Why would Vincent not have told them about his murderer before he died?
Or was it murder after all?
In
'
Van Gogh: The Life', a 960-page book published in 2011, the Pulitzer Prize-winning authors claim that Van Gogh had been shot, possibly accidentally, by a couple of boys and that the artist had decided to protect them by accepting the blame.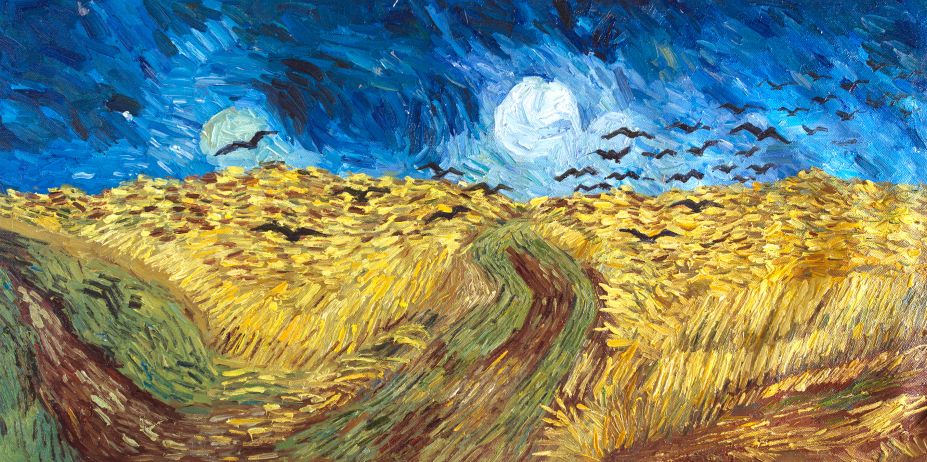 Our hand-painted reproduction of
Wheat Field with Crows
, one of Van Gogh's last paintings.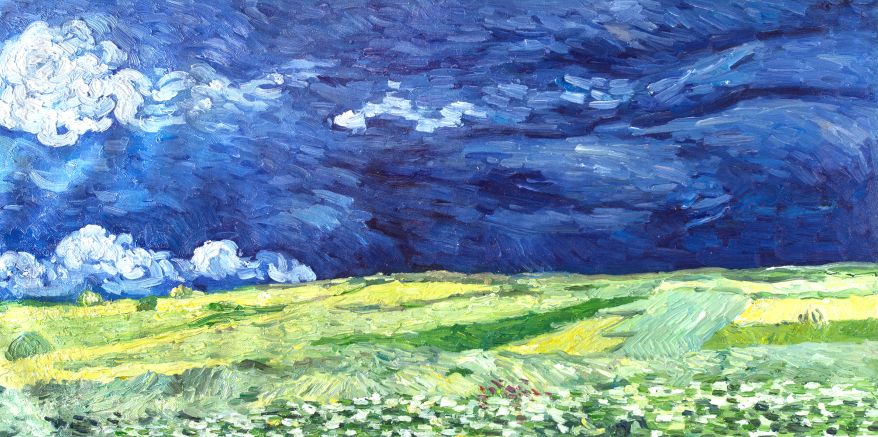 Our hand-painted reproduction of
Wheat Field under Thunderclouds
, one of Van Gogh's last paintings.
R.I.P. Vincent van Gogh
Vincent wrote to Theo from Arles two years earlier in July 1888:
"Painters being dead and buried, speak to a following generation or to several following generations through their works. In the life of the painter, death may perhaps not be the most difficult thing."
Iraakaufman
- 18-05-2020
It has been obvious perhaps only to myself that Vincent never cut his own ear, but Gauguin in their fight did that. Then of course Vincent would never get his friend in trouble. So here one wonders if in truth it was those boys after all.