Van Gogh first met Paul Gauguin, when along with Theo, he visited him in his studio in Paris. Some time later Gauguin attended a small exhibition Van Gogh held with some of his new artist friends, in a small café in Paris.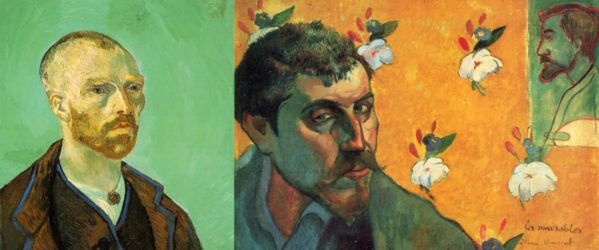 Gauguin was very fond of Van Gogh's work at the exhibition, in particular,
Two Sunflowers
, an early impressionist work of van Gogh's. Gauguin was able to prize it from him by swapping it for one of his own.
Paris
was too much for both men, for Gauguin it was the rich and vacuous art world, for Van Gogh it was more the busy and crowded way of life. And they both soon heading into more rural and quiet areas.
Lonely in Arles
During his time in
Arles
, Van Gogh not having any artist friends around him had become lonely, and in his letter to Theo told him of his situation.
Theo decided to find someone to live with Van Gogh, and paint with him, in some way fulfilling the idea that van Gogh initially had had, which was to create an artist residence, where a community of artists could work and live together.
Theo knew Van Gogh had great respect for Paul Gauguin, least of all as he was already a respected artist, exhibiting with the famous impressionists of the time. Theo and Van Gogh began trying to convince Gauguin. He agreed but kept postponing the trip.
Van Gogh had already begun to ready the house, clearing the bottom rooms into studios with bedrooms upstairs. The house was known as the '
Yellow House
' for its buttery yellow appearance.
He also began to paint more
sunflower
paintings and adorn the spare room with them, waiting for Gauguin's visit.
Theo steps in
Eventually Theo paid Gauguin's train ticket to go and he planned to stay with Van Gogh for one or two years, living and working together.
The companionship started well. They first decided to paint
self-portraits
and give them to each other, both extending themselves with deep reflections on their own self. A little bit shocked at how Van Gogh lived, Gauguin took over cooking duties in the house, making them both healthy food.
You can find works of the great
sunflower series
of paintings here. Read on to part two for the rest of the story about Gauguin and Van Gogh.
Your Daily Dose of Van Gogh
What did Vincent van Gogh write on this day?
Find out in your
FREE Van Gogh e-book
.
Hundreds of questions answered by Van Gogh himself!