How many of Van Gogh's original frames have survived?
Only one original frame of Vincent van Gogh's paintings has survived. It is the frame of 'Quinces, Lemons, Pears and Grapes'. A painting he made in Paris in 1887, that he dedicated to his brother Theo. Theo had encouraged Vincent to change his colors from dark to bright. The art works of impressionists in Paris finally convinced Van Gogh and he even painted the frame in yellow and green.

After Paul Gauguin had left Vincent in Arles he saw this painting in Paris at Theo's house:
133 years ago, between 8 and 16 January 1889,
Paul Gauguin wrote to Vincent van Gogh from Paris:

"...your sunflowers on a yellow background which I regard as a perfect page of an essential 'Vincent' style. At your brother's home I saw your Sower, which is very good, as well as a yellow still life, apples and lemons. Your brother gave me a lithographed reproduction of an old painting of yours, Dutch – very interesting as regards colour in the drawing. In my studio next to your portrait."

Quinces, Lemons, Pears and Grapes
Paris, 1887
Oil on canvas
48,5 x 65 cm
Van Gogh Museum, Amsterdam

You may also like to read: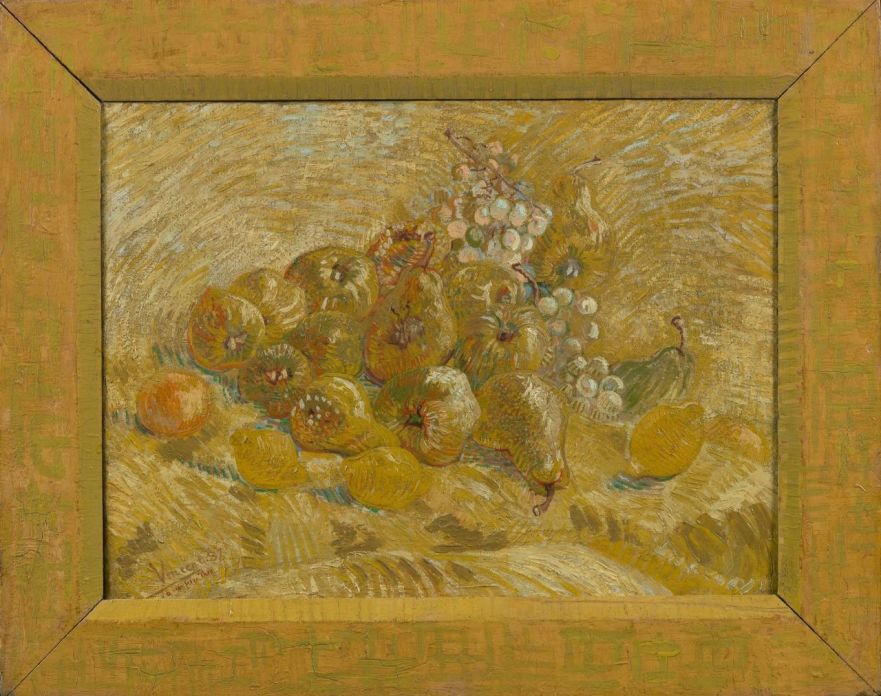 Van Gogh's 'Quinces, Lemons, Pears and Grapes'
Your daily dose of Van Gogh.
<< previous
|
next >>