How many watercolor paintings has Van Gogh made?
Vincent van Gogh has made nearly 150 watercolor paintings throughout his 10 year career as a painter. He often made them as studies for an oil painting. They are not as famous as many of his oil paintings, but in 2021 his watercolor painting 'Haystacks near a Farm' was sold at an auction for record amount of 35.85 million USD.
Today 139 years ago, on 5 November 1882,
Vincent van Gogh wrote to Theo from The Hague:

"Have been working again on women miners carrying sacks of coal in the snow — watercolour. But above all I've drawn or so studies of figures for it, and 3 heads, and I'm not yet finished. I've got the effect in the watercolour, I believe, but it isn't yet strong enough in character for my taste."

Women carrying sacks of coal in the snow
The Hague, 1882
Chalk, brush in ink, and opaque and transparent watercolour on wove paper
32,1 x 50,1 cm
Kröller-Müller Museum, Otterlo, The Netherlands

You may also like to read: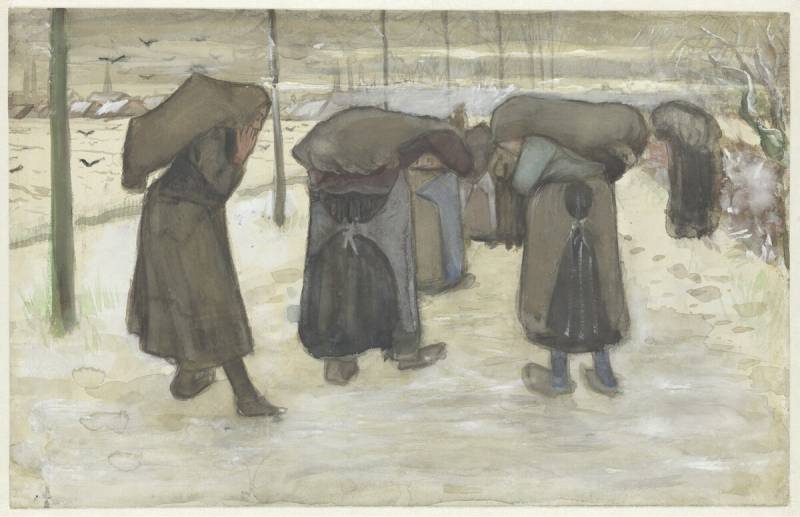 Van Gogh's 'Women carrying sacks of coal in the snow'
<< previous
|
next >>
Your Daily Dose of Van Gogh
What did Vincent van Gogh write on this day?
Find out in your
FREE Van Gogh e-book
.
Hundreds of questions answered by Van Gogh himself!