The most expensive Van Gogh painting
Surprisingly,
Vase With Fifteen Sunflowers
,
Blossoming Almond Tree
, any one of the
self-portraits
,
Irises
,
Wheat Field With Crows
, neither one are the most expensive Van Gogh.
Instead selling in 1990 for $86 million to a Japanese businessman with a penchant for fine art, and with an adjusted price now of $152 million is Van Gogh's
Portrait of Dr. Gachet
. It is the seventh most expensive painting in the world.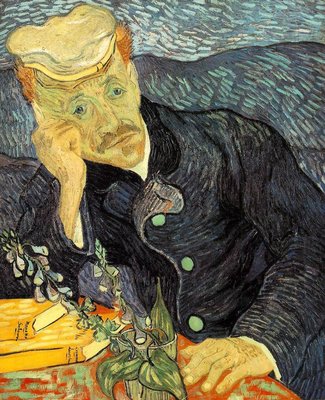 Modern portrait
The art work was painted in 1890, just a few months before Van Gogh's death. Van Gogh stayed with Dr. Gachet on a couple of occasions, originally introduced to him by his brother Theo, who urged him to spend time with the doctor as he had treated and was friendly with other artists of the time.
Van Gogh's initial assessment of the doctor was not so promising: "I think that we must not count on Dr. Gachet at all. First of all, he is sicker than I am, I think, or shall we say just as much, so that's that."
Van Gogh warmed to Dr. Gachet and found him to be a true friend, and thought too that they resembled one another. With the painting he wanted to create a modern portrait, and show the sensitive, melancholic expression of the doctor's face.
The market wanted Van Gogh
One of the reasons it may have sold for so much was the timing, in 1990 the market was strong and Van Gogh pieces were very popular.
The piece was auctioned at Christies where Ryoei Saito outbid everyone, making it at the time of purchase, the most expensive painting in the world.
The buyer of the most expensive Van Gogh painting
The 75 year old said that he would have the Van Gogh painting cremated with him after his death, which created a controversy in the press, though his aides were quick to assure everyone it was just his way of showing his intense appreciation of the painting.
Later he said he would donate it to the Japanese government. It has also been reported he sold the painting before his death, in 1996. Either way, the painting has not been seen since.
Get your own reproduction of the most expensive Van Gogh painting,
Portrait of Dr. Gachet
, here.
Your Daily Dose of Van Gogh
What did Vincent van Gogh write on this day?
Find out in your
FREE Van Gogh e-book
.
Hundreds of questions answered by Van Gogh himself!