Was Van Gogh a romantic person?
Van Gogh painted Starry Night Over the Rhone in 1888, an intensely busy year and one where he produced so many masterpieces. It was painted on the bank of the Rhone river, only a few minutes walk from Van Gogh's home at The Yellow House. It is one of Van Gogh's most romantic works. The shimmering reflections of the gas lighting on the water, and swirling colours of the stars in the sky above surround a couple, walking along the banks of the river, their arms interlocked.
Earlier in the same month Van Gogh painted another painting with a beautiful night sky:
Cafe Terrace at Night au Place du Forum
. And in the same theme perhaps his most famous painting, painted from the asylum in Saint-Rémy:
Starry Night
.
Letter to Theo about Starry Night over the Rhone
Date: Arles, on or about Saturday, 29 September 1888
"Included herewith little croquis of a square no. 30 canvas — the starry sky at last, actually painted at night, under a gas-lamp. The sky is green-blue, the water is royal blue, the areas of land are mauve. The town is blue and violet. The gaslight is yellow, and its reflections are red gold and go right down to green bronze. Against the green-blue field of the sky the Great Bear has a green and pink sparkle whose discreet paleness contrasts with the harsh gold of the gaslight. Two small coloured figures of lovers in the foreground."
Vincent van Gogh to Eugène Boch
Date: Arles, Tuesday, 2 October 1888
"And lastly, a study of the Rhône, of the town under gaslight and reflected in the blue river. With the starry sky above — with the Great Bear — with a pink and green sparkle on the cobalt blue field of the night sky, while the light of the town and its harsh reflections are of a red gold and a green tinged with bronze. Painted at night."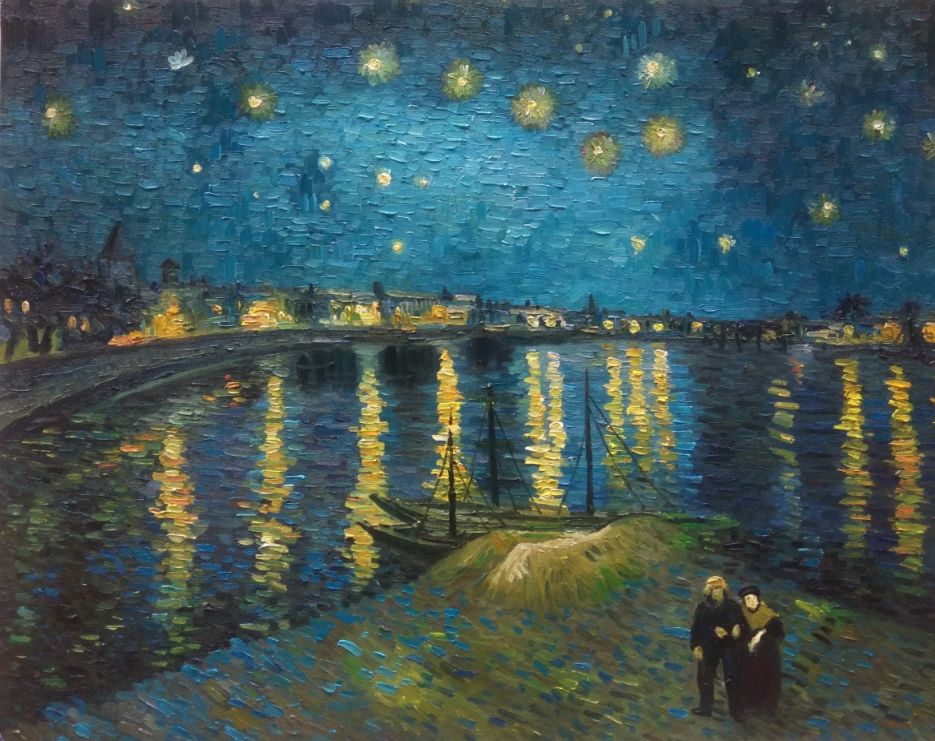 Our hand-painted replica of Starry Night over the Rhone in oil on canvas
Beautify your home with a Starry Night over the Rhone reproduction
The original Van Gogh painting can be visited in the Musée d'Orsay in Paris... and is not for sale. Our hand-painted Starry Night over the Rhone reproduction in oil on canvas could be the best alternative. You can
order it here
.
Your Daily Dose of Van Gogh
What did Vincent van Gogh write on this day?
Find out in your
FREE Van Gogh e-book
.
Hundreds of questions answered by Van Gogh himself!