What did Van Gogh receive from Lucien Pissarro in exchange for his painting?
In Paris Vincent van Gogh had exchanged his Basket of apples for several wood engravings by Lucien Pissarro, son of Impressionist painter Camille Pissarro.

Wood engravings were similar to the Japanese woodblock prints that Van Gogh collected. But with wood engravings the line is incised into the woodblock, rather than the background being cut away to leave a line in relief. Both ways were popular printmaking methods in the 19th century.
Today 134 years ago, on 9 March 1888,
Vincent van Gogh wrote to Theo from Arles:

"Now I've just finished a study like the one of mine Lucien Pissarro has, but this time it's of oranges. That makes eight studies I have up to now. But that doesn't count, as I haven't yet been able to work in comfort and in the warm."

Basket of oranges
Arles,1888
Oil on canvas
45,0 x 54,0 cm
Private collection

You may also like to read: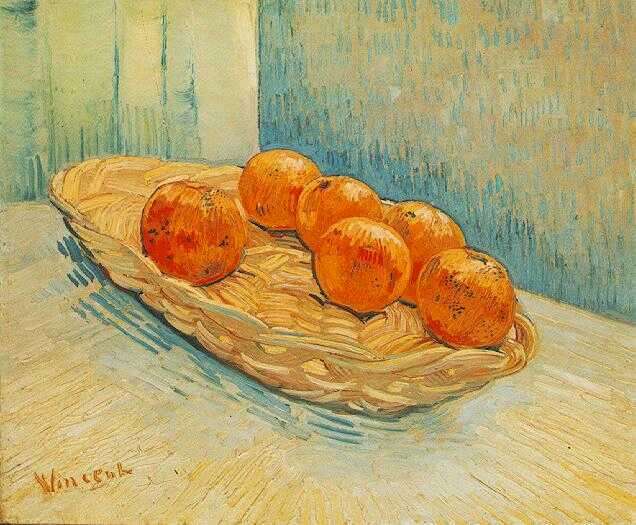 Van Gogh's 'Basket of oranges'
<< previous
|
next >>
Your Daily Dose of Van Gogh
What did Vincent van Gogh write on this day?
Find out in your
FREE Van Gogh e-book
.
Hundreds of questions answered by Van Gogh himself!