What does Starry Night mean to you? - Fraya Pagih from Bandung, Indonesia
Fraya Pagih from Bandung, Indonesia contributed to our instagram account
@amazingstarrynights
with her Amazing Starry Night. We wanted to ask her a few questions:
What does Starry Night mean to you?
Fraya:
Well.. It's nothing I've ever seen before. I saw mega-realistic paintings that look soooooo damn smooth, almost like photographs. Then I've seen mega-weird paintings that, to me as someone with no art background, look like layers of baby vomit on top of each other. But here comes one canvas full of nothing but strokes, then I told myself, "Damn, Fraya, it's not a joke". Not to mention that Vincent did this with oils, I can't imagine how long it took to completely dry.
Which other Van Gogh paintings do you admire?
Fraya:
Lol, you know, Erik. Just like everybody else, my #1 favourite is Starry Night. I mean, who doesn't love Starry Night tho?! At first, my Top 3 were
Starry Night
,
Starry Night Over The Rhone
, and
Cafe Terrace at Night
. But then I read more and more stuff about him and found out that he had over a thousand more paintings I never knew about (I felt so sorry for myself that I just found him out few years ago). I looked them up, and I I looked them up, and I fell in love more with his personal belongings. His chair, his bedroom, his shoes, his hats, they strangely make me feel closer to him, like I knew him as an old friend (only to later cry myself to sleep for the fact that he's dead and his life was vulnerable).
How was it to create your Amazing Starry Night?
Fraya:
My first Starry Night recreation was in 2018, on my chest, using water-based facepaints and some glitter. Since I had no art background at all, I had no other idea but the fact that my girlfriend's name means "star" in my language and that famous painting is called Starry, so I recreated it. Of course, I knew it was Van Gogh, but that's all. I had no idea who he was, when he died, I knew nothing. Until one day I was at work and Don McLean's song kept playing on my head, so I listened to it and googled "Van Gogh". Only then I realized that I was so damn late for everything. I was like, "Oh, no. He died! Wait, did he have kids? Oh my.. No! He was poor. God, why?!?!". Later that night, it was 2 AM and I couldn't put myself to sleep, so I decided take my watercolour and started drawing some small blue strokes on my sketchbook. Fast forward to the last stroke on the evergreen tree, and it was suddenly 8 AM lol. Finally, I fell asleep. I'm currently working on my third Starry Night on canvas, but I don't know what to expect. I'm such a professional mud mixer (read: Erik, Heeeeeeelp!!!)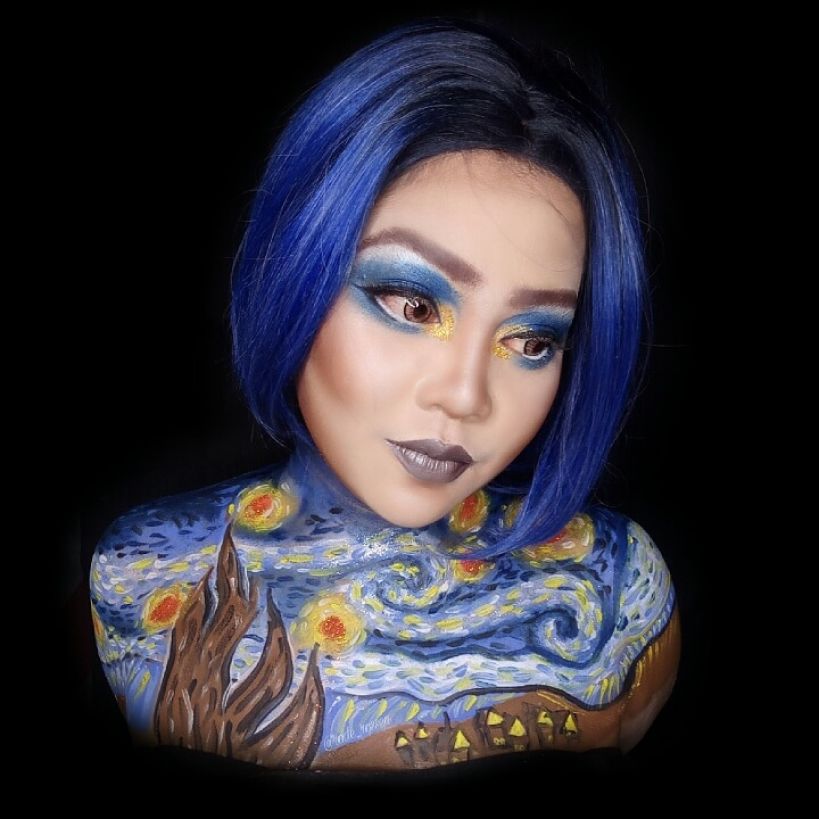 Fraya Pagih from Bandung, Indonesia and her Amazing Starry Night
Follow us on insta
Would you like to see more amazing starry night creations? Follow our instagram account
@amazingstarrynights
Would you like to see more of Fraya's work?
Follow her instagram
too!
Check out our Starry Night replica
Are you a Starry Night fan like Fraya? The original Van Gogh painting can be visited in the MOMA museum in New York.. and is not for sale. Our hand-painted Starry Night reproduction in oil on canvas could be the best alternative. You can
order it here
.
You may like to read more
interviews.
Angelica Stessoposto
- 05-03-2020
As a big fan of van Gogh and especially Starry Night, I love following this blog. This interview was particularly special to me because now I am aware the passion felt for this talented red-bearded artist is global and even reached Bandung, Indonesia. Now I am not just a fan of van Gogh but also feel a strong connection and admiration for Fraya Pagih! Her body painted starry night is gorgeous- and am curious to see her Replica on canvas!