When did Van Gogh experiment with complementary colors?
Vincent van Gogh made his most famous paintings in the South of France, known for their bright colors. To intensify the effect of color he used complementary colors by combining yellow and purple, blue and orange, red and green. But already in his dark period in Nuenen he experimented with color combinations.
Today 136 years ago, on or about 20 October 1885,
Vincent van Gogh wrote to Theo from Nuenen:

"Just to say how that study was painted — quite simply this. Green and red are complementary. Well there's a particular — red in the apples, very coarse in itself — and greenish things as well. Now there are one or two apples in a different colour too — which make the whole thing right — in a particular pink. That pink — is the broken colour, created by mixing the aforementioned red and the aforementioned greenish. There you have the reason why there's an association between the colours. Added to this is a second contrast — the background forms a contrast to the foreground. The one is a neutral colour, obtained by breaking blue with orange, the other the same neutral colour, only altered by the addition of some yellow."

Basket of Apples
Nuenen, 1885
Oil on canvas
45,0 x 60,4 cm
Van Gogh Museum, Amsterdam

You may also like to read: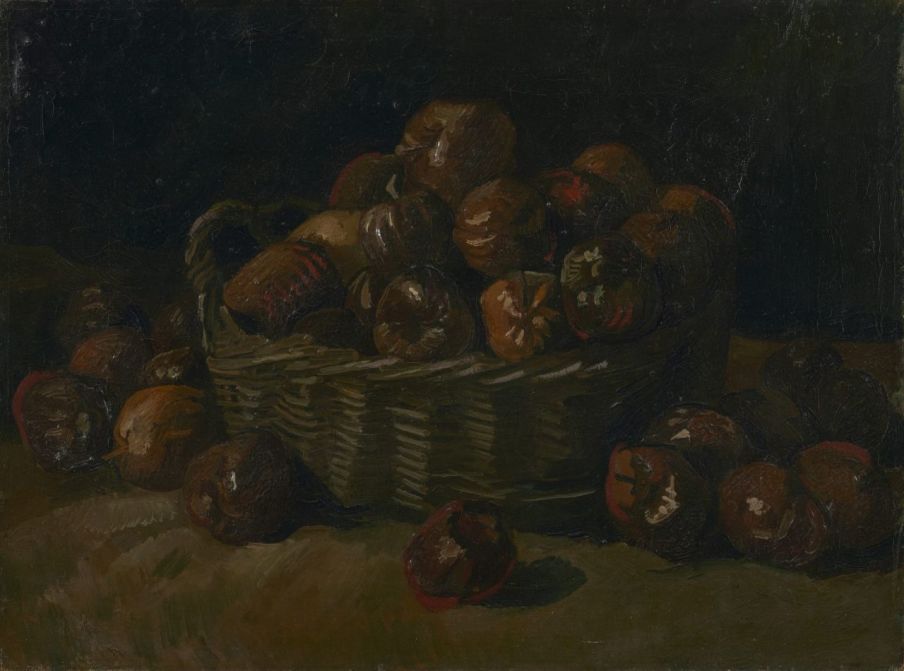 Van Gogh's 'Basket of Apples'
<< previous
|
next >>
Your Daily Dose of Van Gogh
What did Vincent van Gogh write on this day?
Find out in your
FREE Van Gogh e-book
.
Hundreds of questions answered by Van Gogh himself!