Where did Van Gogh and Eugene Boch first meet?
Van Gogh and Eugène Boch both painted in Paris, but they were introduced to each other later in Arles in 1888, by American post-impressionist Dodge MacKnight.
Today 166 years ago, on 1 September 1855,
the artist Eugene Boch (1 September 1855 - 3 January 1941) was born. Vincent van Gogh wrote to him only once, from Arles on 2 October 1888:
"And lastly, a study of the Rhône, of the town under gaslight and reflected in the blue river. With the starry sky above — with the Great Bear — with a pink and green sparkle on the cobalt blue field of the night sky, while the light of the town and its harsh reflections are of a red gold and a green tinged with bronze. Painted at night."
Starry Night over the Rhône
Arles, 1888
Oil on canvas
72,5 x 92 cm
Musée d'Orsay, Paris
Starry Night over the Rhône is one of Van Gogh's most romantic works. The shimmering reflections of the gas lighting on the water, and swirling colours of the stars in the sky above surround a couple, walking along the banks of the river, their arms interlocked. You can read more about it here: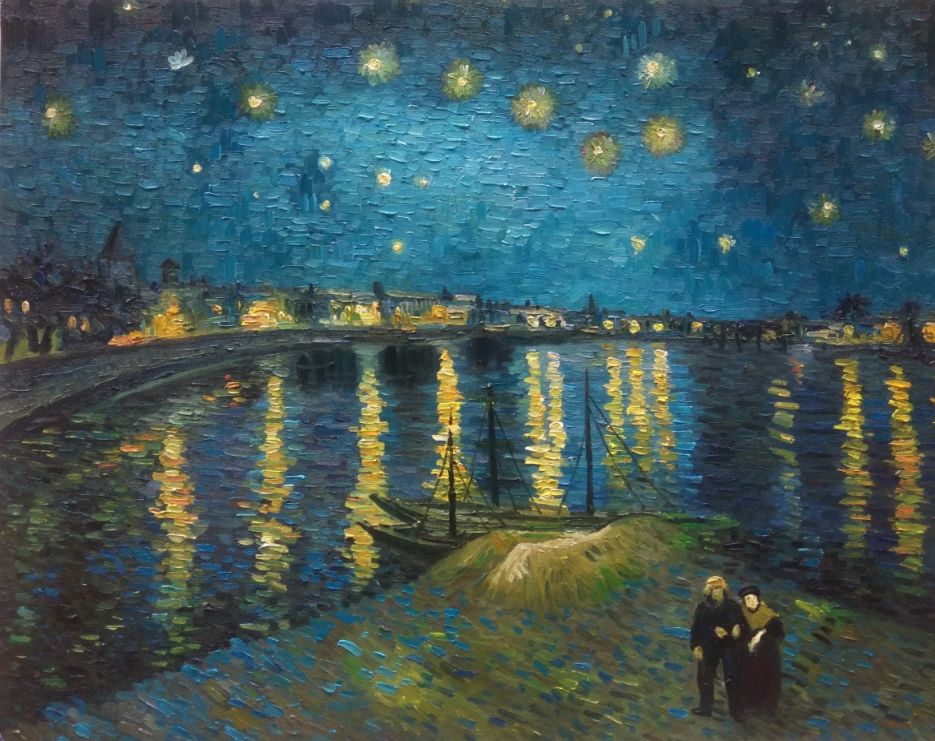 Our hand-painted reproduction of Van Gogh's
'Starry Night over the Rhone'
.
<< previous
|
next >>
Your Daily Dose of Van Gogh
What did Vincent van Gogh write on this day?
Find out in your
FREE Van Gogh e-book
.
Hundreds of questions answered by Van Gogh himself!