At what time of the day did Van Gogh actually paint Cafe Terrace at Night?
Vincent van Gogh loved painting in nature, away from people. But in Arles, he actually painted the Cafe Terrace at Night on the spot at night, which he enjoyed very much as we can read in his letter.
Today 133 years ago, on 14 September 1888
Vincent wrote to his sister Willemien:
"Now there's a painting of night without black. With nothing but beautiful blue, violet and green, and in these surroundings the lighted square is coloured pale sulphur, lemon green.
I enormously enjoy painting on the spot at night. In the past they used to draw, and paint the picture from the drawing in the daytime. But I find that it suits me to paint the thing straightaway.
It's quite true that I may take a blue for a green in the dark, a blue lilac for a pink lilac, since you can't make out the nature of the tone clearly. But it's the only way of getting away from the conventional black night with a poor, pallid and whitish light, while in fact a mere candle by itself gives us the richest yellows and oranges."
Cafe Terrace au Place du Forum
Arles, 1888
Oil on canvas
81 x 65,5 cm
Kröller-Muller Museum, Otterlo, The Netherlands
You may also like to read: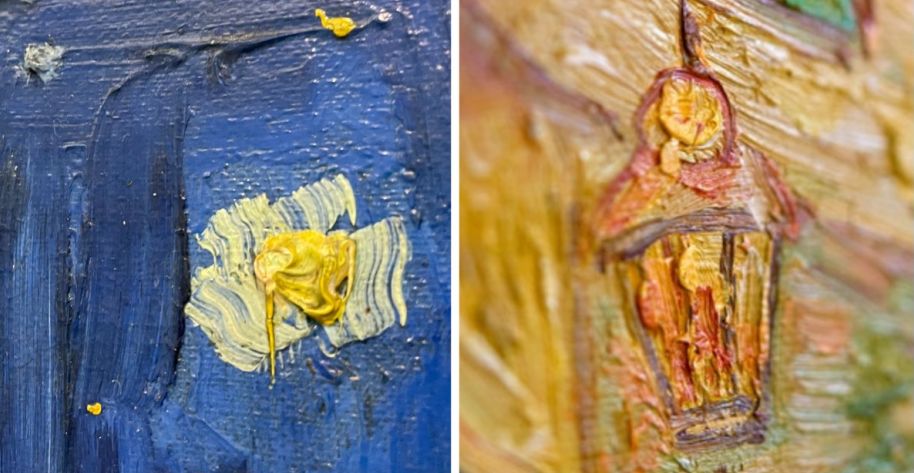 Two details of Cafe Terrace at Night. Which one shows the original painting, which one is from our
reproduction
?
<< previous
|
next >>
Your Daily Dose of Van Gogh
What did Vincent van Gogh write on this day?
Find out in your
FREE Van Gogh e-book
.
Hundreds of questions answered by Van Gogh himself!