At which restaurant in Arles did Van Gogh eat?
"I've found a better restaurant where I eat for 1 franc." This was Restaurant Vénissac on place Lamartine, where Van Gogh ate every day (at least in August and September). It was next door to the Café de la Gare, where he was staying. The owner was the widow Marguerite Vénissac-Canin.
Although Theo sent him sufficient money to buy expensive painting supplies, Vincent was often still short of money.
Today 133 year ago, on 27 October 1888,
Theo van Gogh wrote to his brother Vincent from Paris"
"Why don't you try to obtain credit with the owner of a restaurant for occasions when, as just recently, I'm not there, or am unable to send you money immediately?"
The Yellow house was on 2 Place Lamartine. And the Night Cafe was on 30 Place Lamartine.
The Yellow House
Arles, 1888
pen and ink
13 x 20.5 cm
Present owner; sale, Christies's, New York, 5 November 2013, lot 16, $5,485,000
You may also like to read: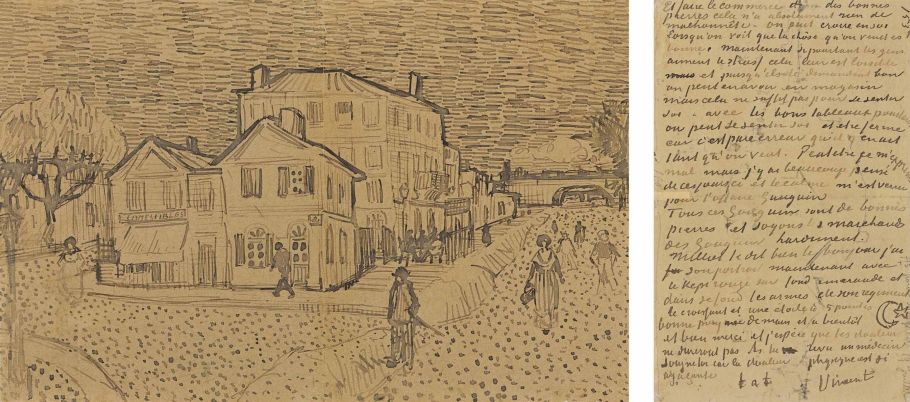 Van Gogh's drawing of '
The Yellow House
' in a letter.
<< previous
|
next >>
Your Daily Dose of Van Gogh
What did Vincent van Gogh write on this day?
Find out in your
FREE Van Gogh e-book
.
Hundreds of questions answered by Van Gogh himself!