Why did Van Gogh not like bankers?
From 1883 to 1888 there was an economic recession with poverty and a high unemployment rate. After their civil war the US government was taking money out of circulation to return to the gold standard. This resulted in less money available to facilitate trade. Vincent van Gogh blamed the bankers.
Today 139 years ago, on or about 26 October 1883,
Vincent van Gogh wrote to his parents from Nieuw-Amsterdam:
"Dear Parents, I received your letters and I thank you for them. The death of Cousin Anna Tak touched me too; yes, it could have happened at any time. I sometimes thought that she wasn't entirely happy, or rather, for my part I don't doubt it for a moment. I think it must be difficult to be happy with a banker, less than ever nowadays. You will say that it isn't so — but I just happen to have certain ideas about it in regard to the way of all businesses."
Although the collapse of the Tulip Mania 250 years earlier (1637) was spectacular, this financial event had no critical influence on the prosperity of the Dutch Republic.
Bulb Fields
The Hague, 1883
Oil on canvas on wood
48,9 cm × 66 cm
National Gallery of Art, Washington D.C.
You may also like to read: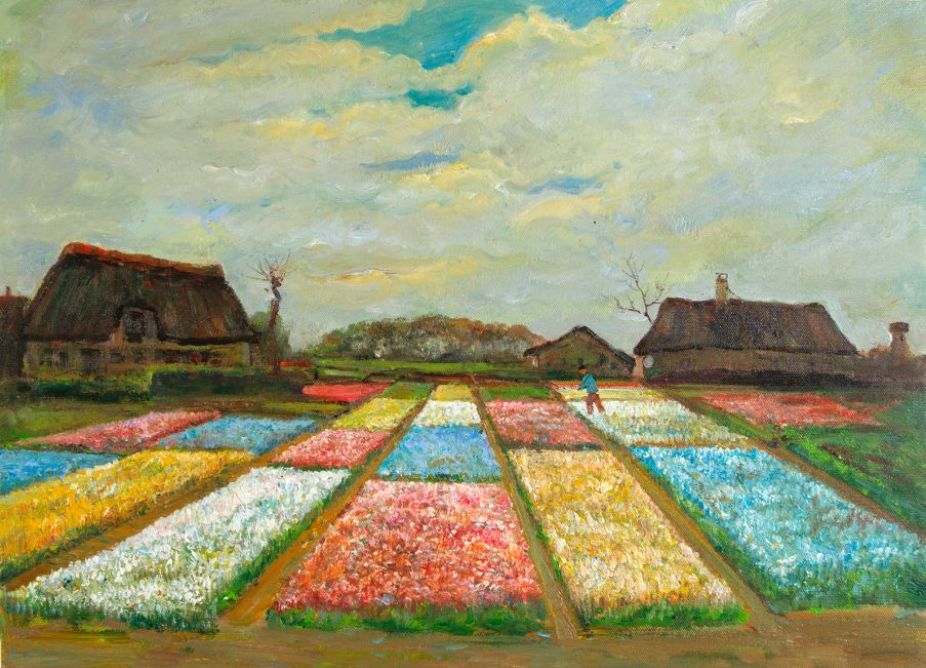 Our hand-painted reproduction of Van Gogh's '
Bulb Fields
'.
<< previous
|
next >>
Your Daily Dose of Van Gogh
What did Vincent van Gogh write on this day?
Find out in your
FREE Van Gogh e-book
.
Hundreds of questions answered by Van Gogh himself!