Did Van Gogh and Gauguin work together?
Vincent van Gogh and Paul Gauguin were roommates, exchanged paintings, painted together, painted each other, wrote each other letters, discussed art and worked together by painting the same topic: Breton Women.
Today 133 years ago, on 26 September 1888,
Paul Gauguin wrote to Vincent van Gogh from Pont-Aven:

"I've just done a religious painting, very badly done, but which was interesting to do, and which I like. I wanted to give it to the church at Pont-Aven. They don't want it, of course. Breton women, grouped together, are praying; costumes very intense black. The yellow-white bonnets very luminous."

Vincent van Gogh, Paul Gauguin, Emile Bernard and Pascal Dagnan-Bouveret each painted their version of Breton women.

The painting on this page is Van Gogh's:

Breton Women and Children
Arles, 1888
Watercolour painting
60 cm x 73.7 cm
Galleria d'Arte Moderna, Collezione Grassi, Milano, Italy

You may also like to read: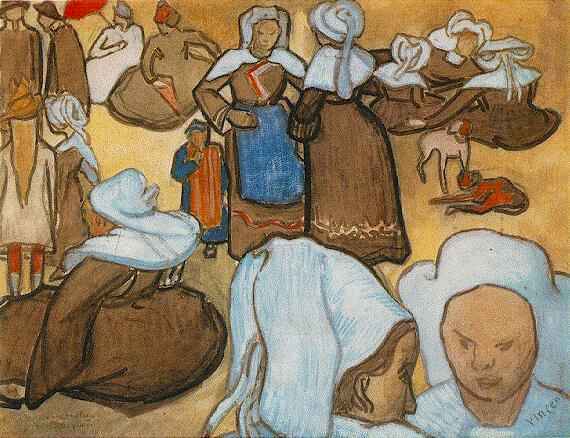 Van Gogh's 'Breton Women and Children'.
<< previous
|
next >>
Your Daily Dose of Van Gogh
What did Vincent van Gogh write on this day?
Find out in your
FREE Van Gogh e-book
.
Hundreds of questions answered by Van Gogh himself!