Did Van Gogh paint during his stay in hospital in Arles?
When Vincent van Gogh stayed in hospital in Arles after his ear accident he simply wasn't able to paint. He was discharged from hospital after two weeks but Van Gogh had to go back a few times as he suffered from attacks.

While Van Gogh was in hospital in Arles again and also later in the Saint-Paul hospital in Saint-Rémy (the asylum) he was very productive. Vincent believed painting was good for his health.
Today 133 years ago, between 28 April and 2 May 1889,
Vincent van Gogh wrote to his sister Willemien from Arles:

"And I still feel incapable of taking a studio again. I'm working though, and have just done two paintings of the hospital. One is a ward, a very long ward with the rows of beds with white curtains where a few figures of patients are moving."

Ward in the hospital
Arles, 1889
Oil on canvas
74 x 92 cm
Sammlung Oskar Reinhart, Winterthur, Switzerland

You may also like to read: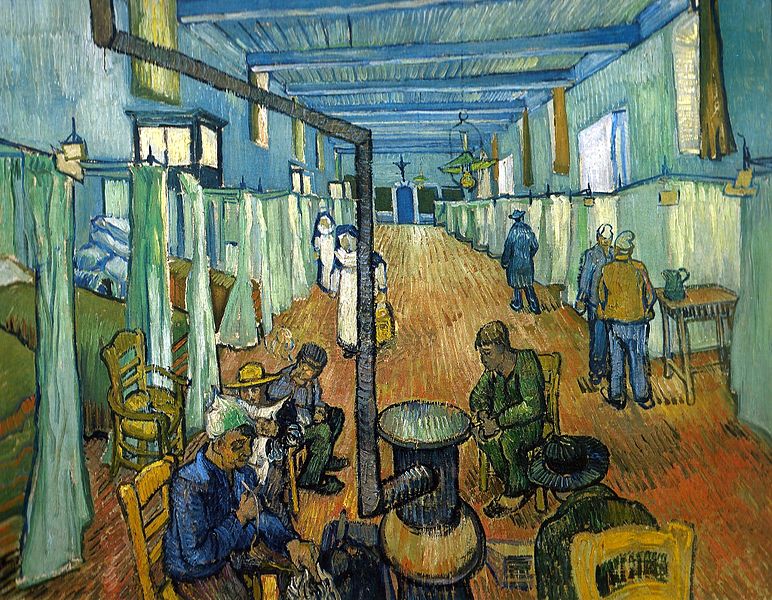 Van Gogh's 'Ward in the hospital'
Your daily dose of Van Gogh.
<< previous
|
next >>