Was Van Gogh convinced about his drawing skills?
Vincent van Gogh was very self-critical in general. Being a perfectionist wasn't easy, but it pushed him to develop his paining style drastically within his 10 year painting career that started in 1880. Van Gogh seemed to be very confident in his drawing skills when he lived in The Hague in 1882 though.
Today 140 years ago, on or about 23 April 1882,
Vincent van Gogh wrote to Theo from The Hague:

"It's precisely because I have a draughtsman's fist that I can't keep myself from drawing and, I ask you, have I ever doubted or hesitated or wavered since the day I began to draw? I think you know very well that I've hacked my way through and am obviously ever more keen to do battle."

Torn-up Noordstraat with diggers
The Hague, 1882
Pencil, pen, heightened with white and colors
43 x 63 cm
Staatliche Museen, Berlin

You may also like to read: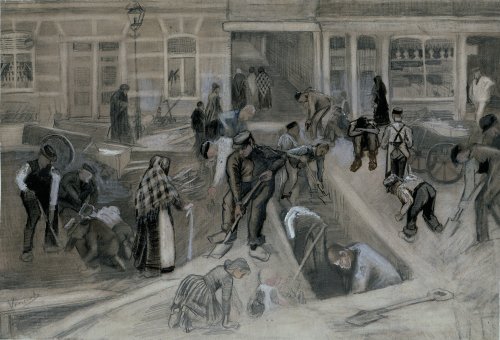 Van Gogh's 'Torn-up Noordstraat with diggers'
Your daily dose of Van Gogh.
<< previous
|
next >>