Did Van Gogh visit his brother in Paris?
Vincent van Gogh visited Theo and Jo in Paris once when he lived in Auvers-sûr-Oise; on 6 July 1890. This was not the first time he visited them. Vincent stopped by for a few days when he moved from the South of France to Auvers. This was the first time he met Theo's wife Jo and his nephew Vincent Willem.
From 1886 to 1888 Vincent lived with his brother Theo in Montmartre in Paris, where Theo was an art dealer. Van Gogh's search for warm light and bright colors made him travel to Arles after that.
Today 132 years ago, on 10 June 1890,
Vincent van Gogh wrote to his brother Theo and his wife Jo from Auvers-sur-Oise:
"Dear brother and sister, Sunday has left me a very pleasant memory. In this way we really feel that we're not so far from one another, and I hope that we'll see each other again often. Since Sunday I've done two studies of houses in the greenery; a whole colony of Americans has installed itself beside the house where I am. They paint, but I haven't yet seen what they do."
Thatched Cottages at Cordeville
(Cordeville is now part of Auvers-sur-Oise)
Auvers-sur-Oise, 1890
Oil on canvas
72 x 91 cm
Musée d'Orsay, Paris
You may also like to read: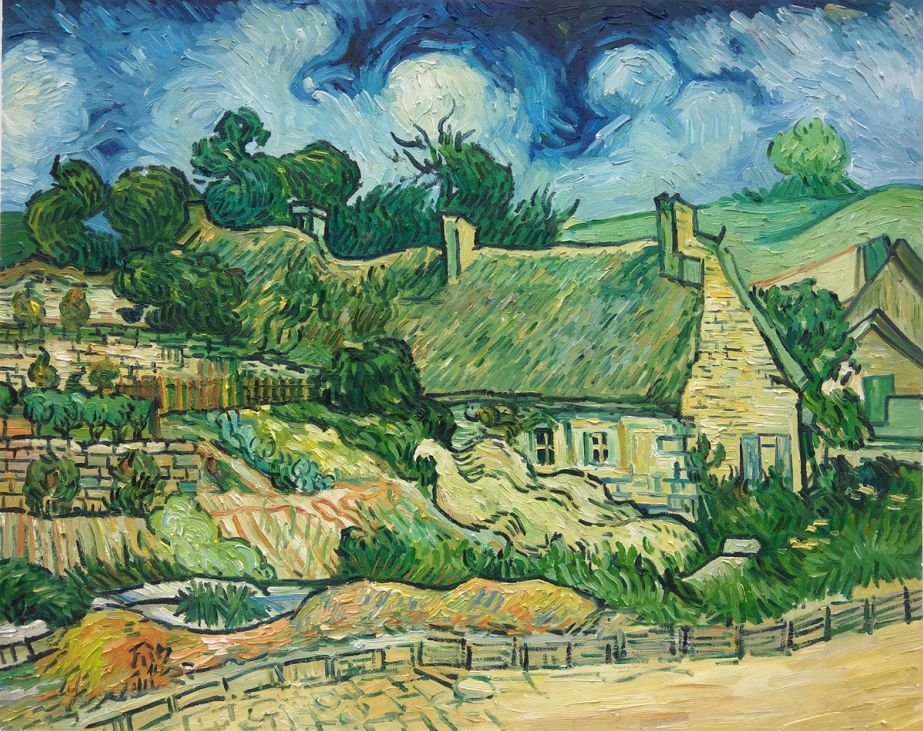 Our hand-painted reproduction of Van Gogh's '
Thatched Cottages at Cordeville
'
<< previous
|
next >>
Your Daily Dose of Van Gogh
What did Vincent van Gogh write on this day?
Find out in your
FREE Van Gogh e-book
.
Hundreds of questions answered by Van Gogh himself!