What did Van Gogh write about thatched cottages?
After spending a year in the
asylum
near Saint-Rémy, Vincent van Gogh and his brother Theo decided that it was better for Vincent to live closer to each other again. Vincent left the South of France and visited Theo and his wife Jo in Paris for three days before moving to Auvers-sûr-Oise, a village in the countryside near Paris.
Dr. Gachet
could take care of Vincent there.
On 20 May 1890, the day of his arrival in Auvers-sûr-Oise, Vincent wrote to Theo and Jo with great enthusiasm::
"Auvers is really beautiful – among other things many old thatched roofs, which are becoming rare. I'd hope, then, that in doing a few canvases of that really seriously, there would be a chance of recouping some of the costs of my stay – for really it's gravely beautiful, it's the heart of the countryside, distinctive and picturesque."
Vincent about Thatched roofs.
Earlier in the South of France Van Gogh loved the nature; the bright sunny landscapes with his beloved
cypresses
, olive trees and
mulberry trees
. But also cottages with thatched roofs already had his attention.
In a letter to Emile Bernard, October 1889, still in Saint-Rémy:
"Anyway, for me the most wonderful thing that I know in terms of architecture is the cottage with a mossy thatched roof, with its blackened hearth."
Later in Auvers-sûr-Oise, Vincent not only wrote to his brother about the thatched roofs, but also to his sister Willemien. In his letter on 21 May 1890:
"And as for myself, for the moment I still fear the noise and the bustle of Paris and I left immediately for the country – to an old village. Here there are roofs of mossy thatch which are superb, and of which I'll certainly do something."
Thatched Cottages at Cordeville
Van Gogh's enthusiasm for the typical cottages lead to his painting '
Thatched Cottages at Cordeville
'. Cordeville was a hamlet near Auvers-sûr-Oise and is part of Auvers these days. Had Van Gogh's style developed again after moving to Auvers?
The effect of thick paint (impasto) is strong here and even more in his masterpieces Wheat Field under Thunderclouds and Wheat Field with Crows two months later. Van Gogh was still critical about his
Starry Night
in 1889 with its extreme motion in the sky. But in The Thatched Cottages at Cordeville he didn't hold back. Not only do we see moving clouds, but also the fairy tale like landscape itself, including the cottages seem to flow and blend into one another.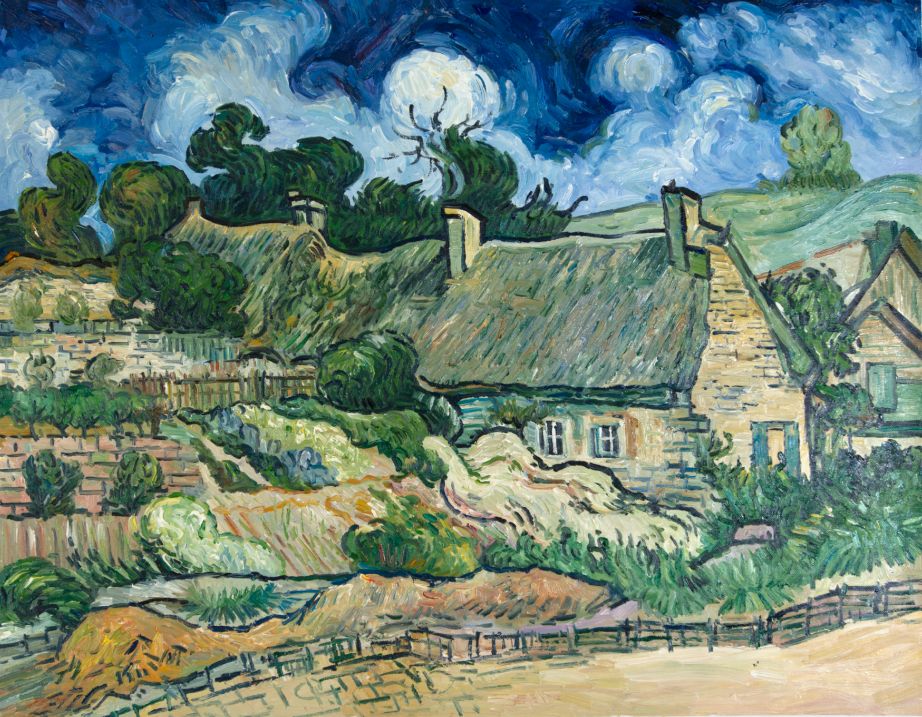 Our hand-painted reproduction of the
Thatched Cottages at Cordeville
.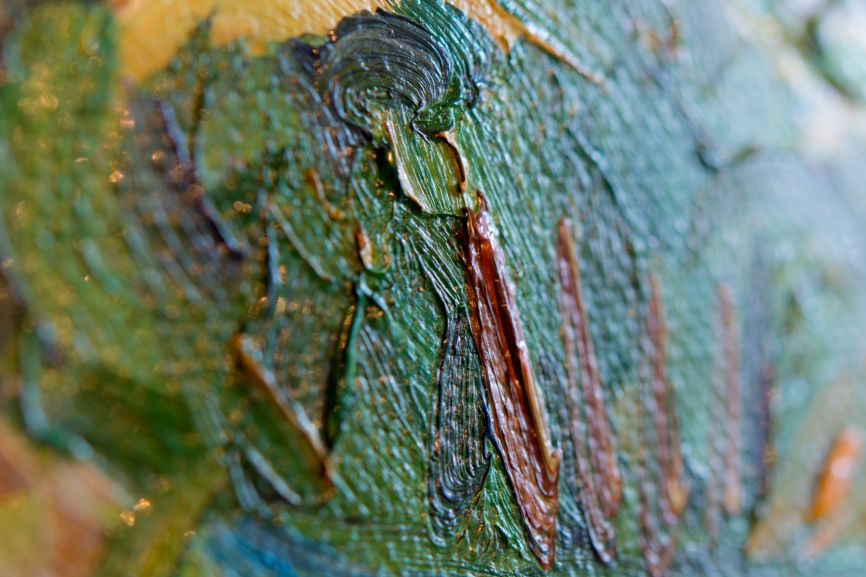 Van Gogh's style of impasto in our
hand-painted replica
.
Thatched roofs in your home
Do you like thatched cottages as much as Van Gogh did? We like painting the
Thatched Cottages at Cordeville
and
Houses at Auvers
close to his original painting for you.
You may also like to read:
Your Daily Dose of Van Gogh
What did Vincent van Gogh write on this day?
Find out in your
FREE Van Gogh e-book
.
Hundreds of questions answered by Van Gogh himself!