Did Van Gogh want to become a magazine illustrator?
Yes, Vincent van Gogh seriously had the ambition to be a magazine illustrator for some time. Lithography was invented in 1796 Germany, mainly to easily reproduce maps and sheet music.

From the 1820s lithography was adopted by British artists who inspired Van Gogh. He collected magazines for their beautiful illustrations. Becoming an illustrator would also generate income so Vincent would be less dependent on his brother's financial support.
Today 139 years ago, on 1 December 1882,
Vincent van Gogh wrote to Theo from The Hague:

"Of course there are costs involved in the drawing, the stone, the printing, the paper. These are relatively low. Prints like the last one I sent you, say, like a new one that I finished yesterday evening and is now ready, would I believe be suitable for a popular edition, for instance, which is so desperately, desperately needed here in Holland, more than elsewhere."

The one Vincent 'finished yesterday' is:

Workman sitting on a basket, cutting bread
The Hague, 1882
Transfer lithography, crayon and autographic ink
49 x 31,5 cm
Van Gogh Museum, Amsterdam

You may also like to read: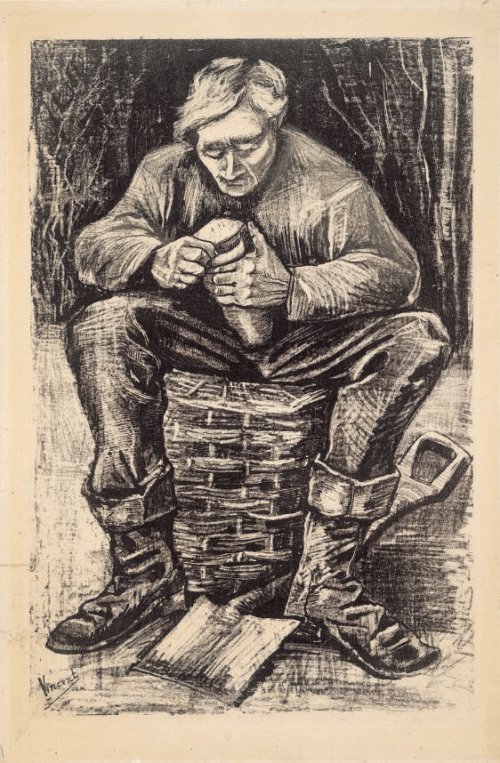 Van Gogh's 'Workman sitting on a basket, cutting bread'
Your daily dose of Van Gogh.
<< previous
|
next >>