Did Victor Hugo inspire Van Gogh?
Victor-Marie Hugo (1802 - 1885) was a French romantic poet, novelist, essayist and playwright. Vincent van Gogh was a big fan and he mentioned Victor Hugo many times in his letters to Theo.
Maybe Victor Hugo's famous novel 'Les Misérables' on social injustice inspired Van Gogh to paint the coarse life of peasants in 'The Potato eaters'. Maybe it motivated Van Gogh to convey emotions through his art unlike the impressionists. It must have been special for Vincent to paint a portrait of an old man that resembled Victor Hugo, his literary hero.
Today 136 years ago, on 14 December 1885,
Vincent van Gogh wrote to Theo from Antwerp:
"My dear Theo, Just wanted to write and tell you that I've pressed ahead with models. I've made two fairly large heads by way of a trial for a portrait. Firstly that old man I already wrote to you about — a type of head in the style of V. Hugo's — then I also have a study of a woman."
Portrait of an old man
Antwerp, 1885
Oil on canvas
44,4 cm x 33,7 cm
Van Gogh Museum, Amsterdam
You may also like to read: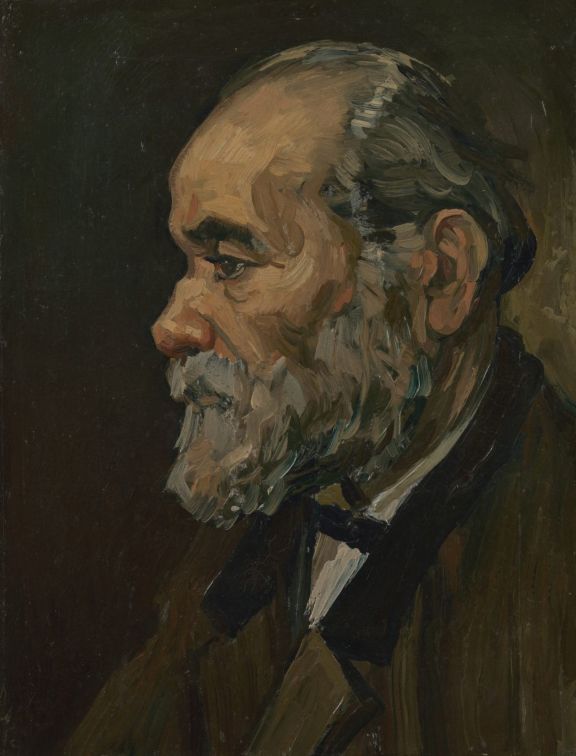 Van Gogh's '
Portrait of an old man
'
Your daily dose of Van Gogh.
<< previous
|
next >>
Erik, Van Gogh Studio
- 15-07-2022
Hi Kylie. What about this frame? https://www.vangoghstudio.com/framed-old-man-with-beard-van-gogh-reproduction/
Kylie Wanders
- 25-04-2022
Such a beautiful portrait! I wonder what frame would work…? ~a fan of Les Miserables and Van Gogh