Which books did Vincent van Gogh read?
Van Gogh was an avid reader. His favorite author was probably Charles Dickens, but he also read Michelet, Carlyle, Daudet, Flaubert, Balzac, Maupassant, Zola, Keats, Eliot, Shakespeare, Voltaire, Hans Christian Andersen, and many others.
"I'd wish that everyone had what I'm gradually beginning to acquire, the ability to read a book easily and quickly and to retain a strong impression of it. Reading books is like looking at paintings: without doubting, without hesitating, with self-assurance, one must find beautiful that which is beautiful."
Today 132 years ago, on 22 August 1889,
Vincent van Gogh wrote to Theo from Saint-Rémy-de-Provence:
"Whilst not liking Rod's book excessively, I've nevertheless done a canvas of that passage in which he speaks of the darkish mountains and huts."
Van Gogh is referring to the passage in which French-Swiss novelist Edouard Rod (1857 - 1910) describes the huts of the mountain dwellers in his book 'Le Sens de la Vie':
"their wooden huts are small and dark, meagre shelters against the terrible cold of their winters, heated by enormous, stiflingly hot stoves made of stone, pierced only by narrow windows through which barely pass thin rays of light and faint breaths of air"
Mountains at Saint-Rémy with Dark Cottage / The Alpilles with a Hut
Saint-Rémy-de-Provence, 1889
Oil on canvas
71,8 x 90,8 cm
Solomon R. Guggenheim Museum, New York City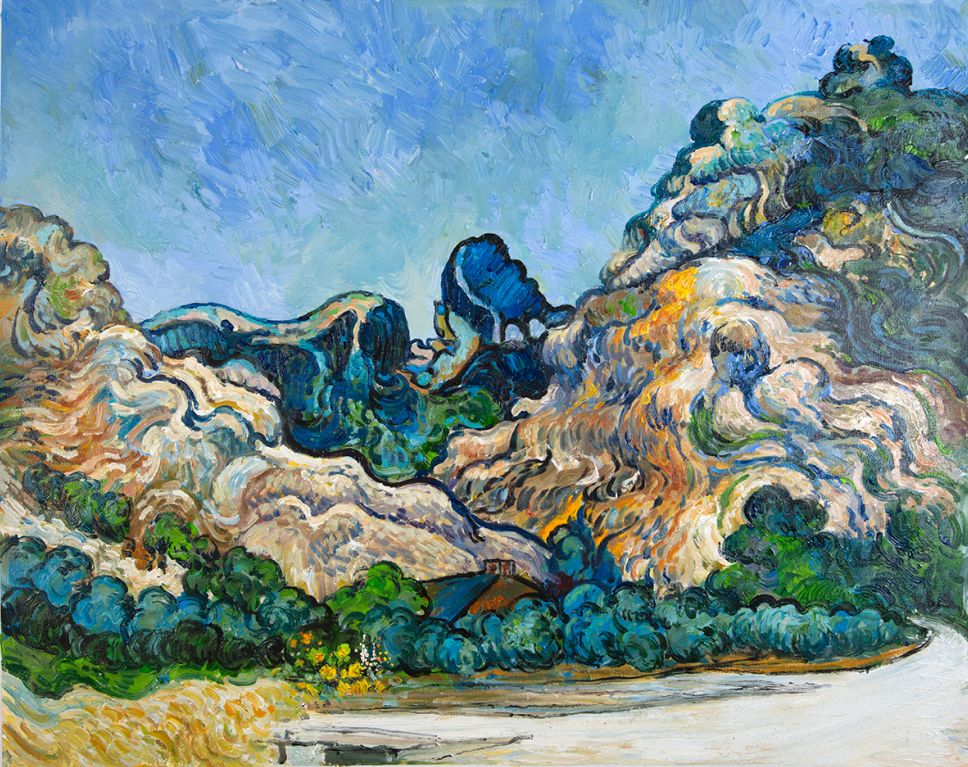 Hand-painted reproduction of Van Gogh's
'
Mountains at Saint-Rémy with Dark Cottage / The Alpilles with a Hut'
You may also like to read: