Did Vincent van Gogh dream about stars?
Not only Van Gogh quotes like: "For my part I know nothing with any certainty, but the sight of the stars makes me dream." show his fascination with stars. Van Gogh's 'Starry Night', 'Starry Night over the Rhône' and 'Cafe Terrace at Night' have become world famous paintings with stars. Van Gogh even decoreated his 'Portrait of Eugéne Boch' with mysterious stars!
Today 133 years ago, on 18 August 1888,
Vincent van Gogh wrote to his brother Theo from Arles:
"I exaggerate the blond of the hair, I come to orange tones, chromes, pale lemon. Behind the head — instead of painting the dull wall of the mean room, I paint the infinite. I make a simple background of the richest, most intense blue that I can prepare, and with this simple combination, the brightly lit blond head, against this rich blue background achieves a mysterious effect, like a star in the deep azure."
Portrait of Eugéne Boch
Arles, 1888
Oil on canvas
60 x 45 cm
Musée d'Orsay, Paris
The only painting Van Gogh sold during is lifetime is "
The Red Vineyard
". It was purchased by Eugéne Boch's sister, Anna Boch.
You may also like to read: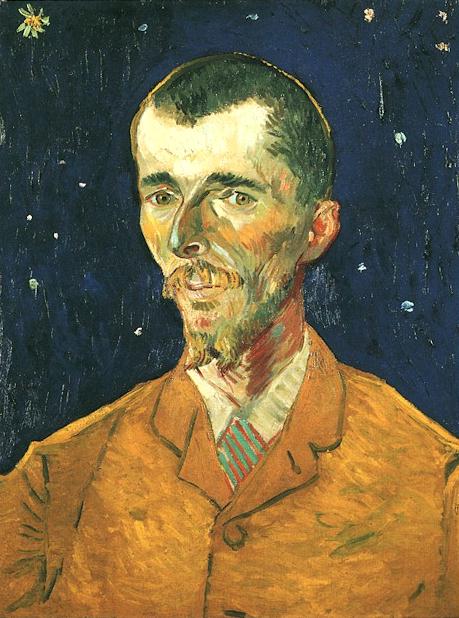 Van Gogh's 'Portrait of Eugéne Boch'
Your daily dose of Van Gogh.
<< previous
|
next >>