How ambitious was Van Gogh?
Vincent van Gogh gave everything he had to succeed. Van Gogh's ambition in combination with his creative talent, his intense and sensitive mind made him focus to produce about 900 paintings, 1100 drawings and 9 lithographs in just 10 years. And he probably sold just one painting. That came with a price. He wrote: "I have lost my soul into my work, and I have lost my mind in the process."

In December 1882 Van Gogh created a lithograph of a man with a pipe and bandaged eye. If only he knew that 6 years later he would paint himself resembling that poor man.
Today 139 years ago, on 31 December 1882,
Vincent van Gogh wrote to Theo from The Hague:

"My dear Theo, It's New Year's Eve and I feel so much like having another word with you. When I wrote my last letter I spoke to you about large heads that I was working on. I was carrying out an experiment at the time, the first results of which I can now report to you, since the day before yesterday, yesterday and today I've had models for two drawings."

Head of a man with a pipe and bandaged eye
The Hague, 1882
Pencil, black lithographic crayon, grey wash, pen and black ink (faded to brown), traces of squaring
45 x 27,6 cm
Kröller-Müller Museum, Otterlo, The Netherlands

You may also like to read: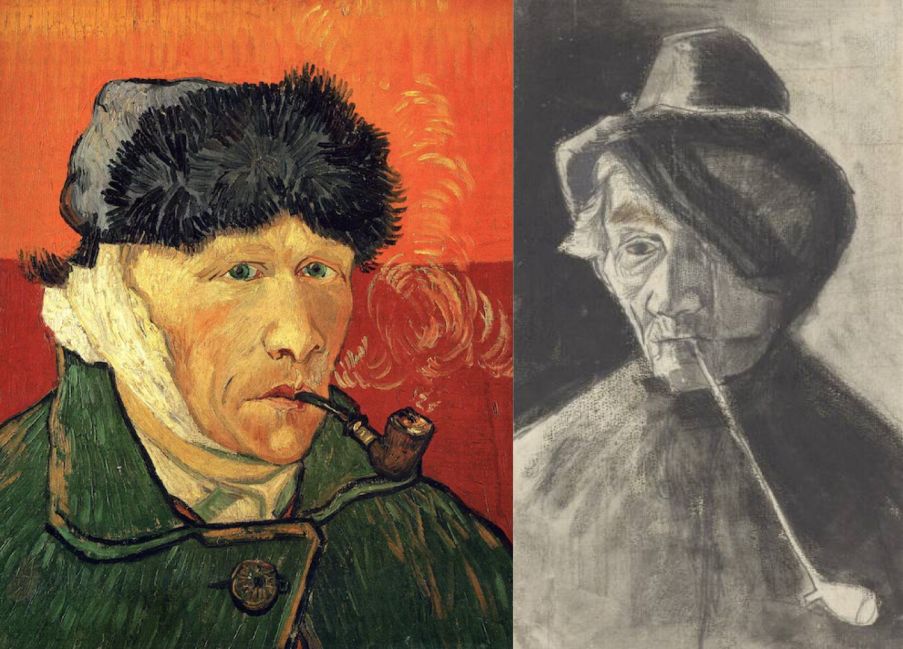 Van Gogh's '
Self-Portrait with Bandaged Ear and Pipe
' and 'Head of a man with a pipe and bandaged eye'
<< previous
|
next >>
Your Daily Dose of Van Gogh
What did Vincent van Gogh write on this day?
Find out in your
FREE Van Gogh e-book
.
Hundreds of questions answered by Van Gogh himself!