Who was Van Gogh's Woman with Red Ribbon?
The Woman with Red Ribbon or Lady with Red Hair Band worked in a cafe chantant in Antwerp. She could be a prostitute. Vincent van Gogh wondered why these cafes didn't want portraits of women on their walls since people went there to see women dancing and singing.

Van Gogh gave the painting to Emile Bernard who he met in Paris in 1886. It was auctioned in at Christie's in London in 2019 and is now part of a private collection.
Today 136 years ago, on 28 December 1885,
Vincent van Gogh wrote to Theo from Antwerp:

"When the model came to me, she'd evidently had a few busy nights — she said something that was entirely typical — for my part, champagne doesn't cheer me up, it makes me very sad. Then I knew what to do, and I tried to get something voluptuous and sad at the same time. I've now started a second study of the same one, in profile."

Portrait of a Lady with Red Hair Band / Portrait of a Woman with Red Ribbon
Antwerp, 1885
Oil on canvas
60 x 50 cm
Private collection

You may also like to read: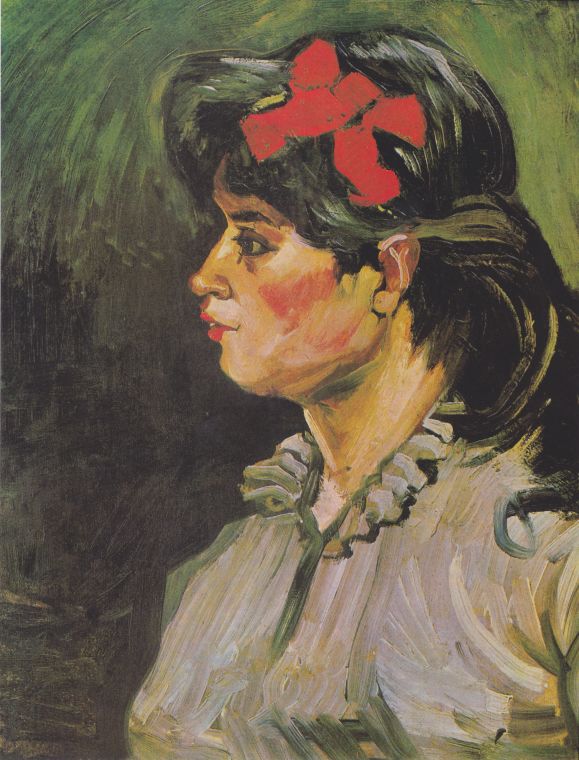 Van Gogh's 'Portrait of a Lady with Red Hair Band'
Your daily dose of Van Gogh.
<< previous
|
next >>