How did Van Gogh play with colors?
To express his emotions Vincent van Gogh looked for contrast by using complementary colors; they intensify each other. Another way to play with colors was to paint different shades of color next to each other.
Today 134 years ago, on or about 19 May 1888,
Vincent van Gogh wrote to Theo from Arles:

"A blue enamelled tin coffee-pot, a royal blue and gold cup (on the left), a pale blue and white chequered milk jug, a cup — on the right — white, with blue and orange designs, on a yellow grey earthenware plate, a blue barbotine or majolica jug with red, green, brown designs, and lastly 2 oranges and 3 lemons; the table is covered with a blue cloth, the background is yellow green, making 6 different blues and 4 or 5 yellows and oranges."

Still life with coffee pot
Arles, 1888
Oil on canvas
65 x 81 cm
Basil & Elise Goulandris Foundation, Athens

You may also like to read: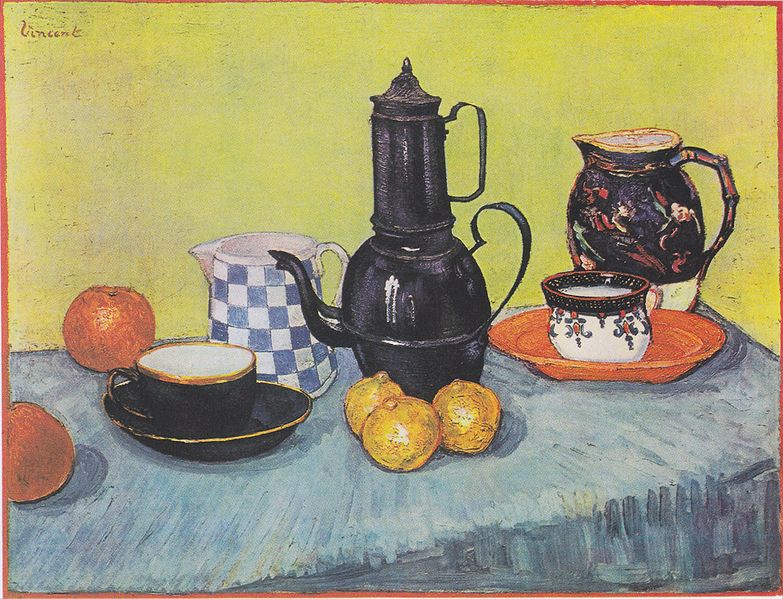 Van Gogh's 'Still life with coffee pot'
<< previous
|
next >>
Your Daily Dose of Van Gogh
What did Vincent van Gogh write on this day?
Find out in your
FREE Van Gogh e-book
.
Hundreds of questions answered by Van Gogh himself!