Why did Van Gogh smoke pipe?
Vincent van Gogh was addicted to smoking tobacco, but his pipe was more to him than that. He described it as 'an old, trusty friend', a source of consolation. It would be good to smoke pipe 'when you're out of spirits' or 'in order to do good work.'

Van Gogh portrayed himself with his pipe several times. His pipe is prominent in his painting 'Vincent's Chair' that can somehow be viewed as a self-portrait as well. The pipe was part of Vincent van Gogh and even on his bed back at the Inn after he had shot himself he asked Dr Gachet for his pipe.
Today 140 years ago, on or about 17 May 1882,
Vincent van Gogh wrote to Theo from The Hague:

"I'm going to lie in the sand in front of the roots of an old tree and draw them. Wearing a linen smock and smoking my pipe and looking at the deep blue sky... or at the moss or the grass. That calms me down."

Study of a Tree
The Hague 1882
Pencil, black chalk, brush and ink, brown and grey wash, opaque watercolour
51,5 x 70,7 cm
Kröller-Müller Museum, Otterlo

You may also like to read: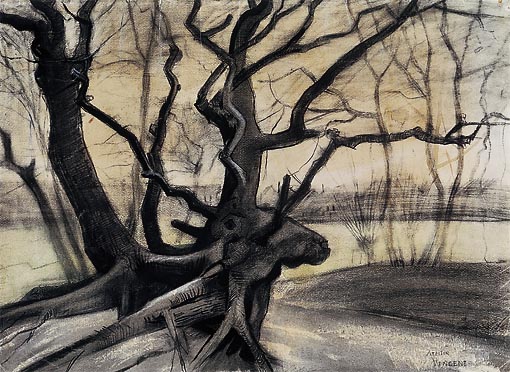 Van Gogh's 'Study of a Tree'
<< previous
|
next >>
Your Daily Dose of Van Gogh
What did Vincent van Gogh write on this day?
Find out in your
FREE Van Gogh e-book
.
Hundreds of questions answered by Van Gogh himself!