How did Van Gogh try to sell his paintings?
Vincent van Gogh's painting 'The Red Vineyard' was sold at the exhibition Les XX in Brussels in 1890. This may be the only one he ever sold. He did try to sell his art though. For example in Antwerp where he went to art dealers to promote a few of his paintings that he had taken with him from Nuenen.
Today 136 years ago, on 28 November 1885,
Vincent van Gogh wrote to Theo from Antwerp:

"See that you send your letter off on the first, because I've got enough bread in until then, but after that I'd be in a real stew. My little room isn't bad at all, and it definitely doesn't look dreary. Now that I have the 3 studies I brought with me here, I'll set about going to the picture dealers, who mostly seem to live in private houses, though, no shop windows on the street."

The three paintings Van Gogh took with him from Nuenen are: an unknown 'mill', Avenue of poplars and Still life with Bible.

Still life with Bible
Nuenen, 1885
Oil on canvas
65,7 cm x 78,5 cm
Van Gogh Museum, Amsterdam

You may also like to read: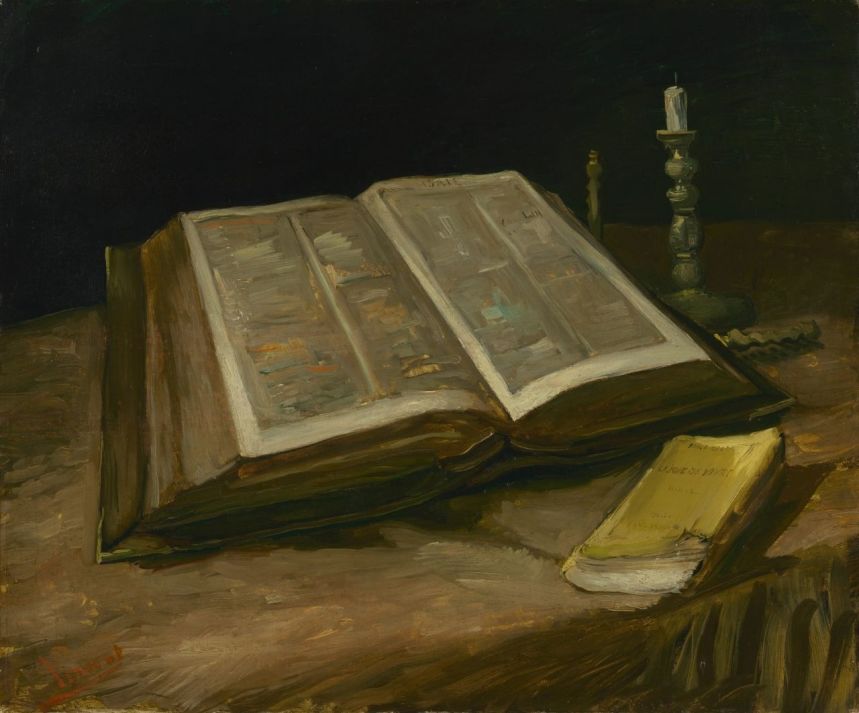 Van Gogh's 'Still life with Bible'
<< previous
|
next >>
Your Daily Dose of Van Gogh
What did Vincent van Gogh write on this day?
Find out in your
FREE Van Gogh e-book
.
Hundreds of questions answered by Van Gogh himself!