How did Vincent van Gogh support his brother Theo?
Vincent was financially and emotionally supported by his young brother Theo. But at the same time Theo needed their strong brotherhood as much as Vincent. Vincent's letters meant a lot to Theo.
Today 132 years ago, on 4 August 1889,
Theo van Gogh wrote from Paris to his brother Vincent in the Asylum in Saint-Rémy:

"In your last letter you wrote that we are brothers for more than one reason. I feel that too, and even if my heart isn't as sensitive as yours, I can sometimes imagine the distress that you feel because of so many thoughts that aren't resolved. Don't lose heart, and remember that I need you so much. Jo sends her best wishes for your recovery. I hope that you'll soon be able to send good reports."

Without doubt Vincent van Gogh's younger brother Theo was his best friend. Theo supported him financially and in many of the 663 letters that Vincent wrote to his brother, Vincent showed his appreciation for Theo's support and their friendship.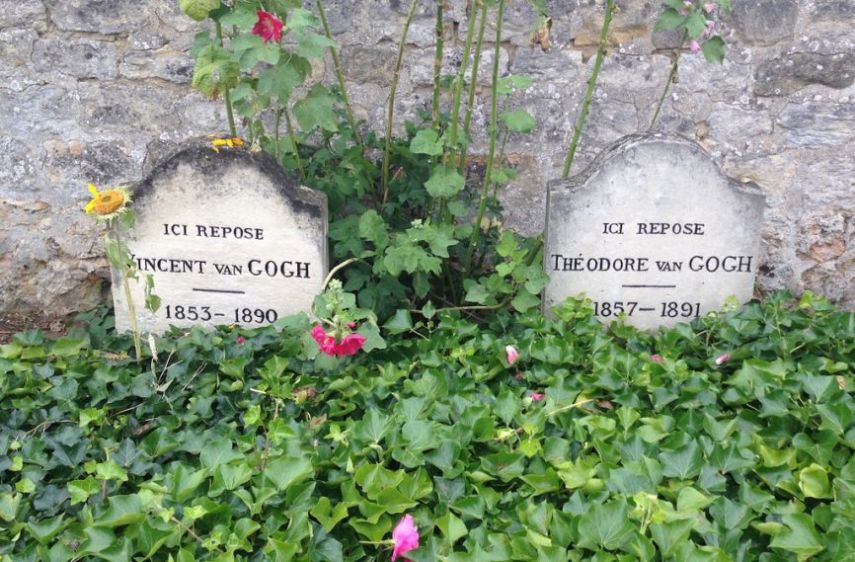 Vincent and Theo van Gogh buried next to each other in Auvers-sûr-Oise.
You may also like to read:
Your daily dose of Van Gogh.
<< previous
|
next >>