Who was Van Gogh's best friend?
Vincent van Gogh may not have been the easiest person, but he definitely found his friendships very valuable.
In 1879 he wrote to his brother Theo:
Like everyone else, I have need of relationships of friendship or affection or trusting companionship, and am not like a street pump or lamp-post, whether of stone or iron, so that I can't do without them without perceiving an emptiness and feeling their lack, like any other generally civilized and highly respectable man — and I tell you these things to let you know what a salutary effect your visit had on me.
Who were Van Gogh's friends?
Considering Van Gogh lived in a world without cars or airplanes, Van Gogh was an adventurous traveler. And wherever he lived, Vincent made friends, like:
Who was Van Gogh's best friend?
Without doubt his brother Theo was his best friend. Theo supported him financially and in many of the 663 letters that Vincent wrote to his brother, Vincent showed his appreciation for Theo's support and their friendship:
To Theo in 1882:
"Thanks for all your loyal friendship, old chap, which I again experienced the whole year long. May I, for my part, be able to give you some pleasure in turn. One day I'll succeed in that."
To Theo in 1883:
"I gain everything, for without you I wouldn't have been able to carry on to where we are now; you gain nothing except for the feeling of giving a career to someone who would have had no career otherwise."
and:
"One thing — if I become too much of a burden on you — let the friendship remain, even if you can give less help financially."
And much later in 1887 to their sister Willemien Vincent wrote:
"If I didn't have Theo it wouldn't be possible for me to do justice to my work, but because I have him as a friend I believe that I'll make more progress and that things will run their course."
Theo's support in difficult times
Theo traveled to the South of France to be there for Vincent when he was in hospital. And when Vincent died, his brother was at his side. Theo died half a year later and the brothers were buried next to each other in Auvers-sur-Oise.
Thanks to Theo
Vincent van Gogh is world famous now as the creator of many masterpieces that are part of art history. His brother Theo made it possible. Thanks to two special brothers who were best friends many people over the world enjoy Vincent's paintings and get inspired by his letters to Theo.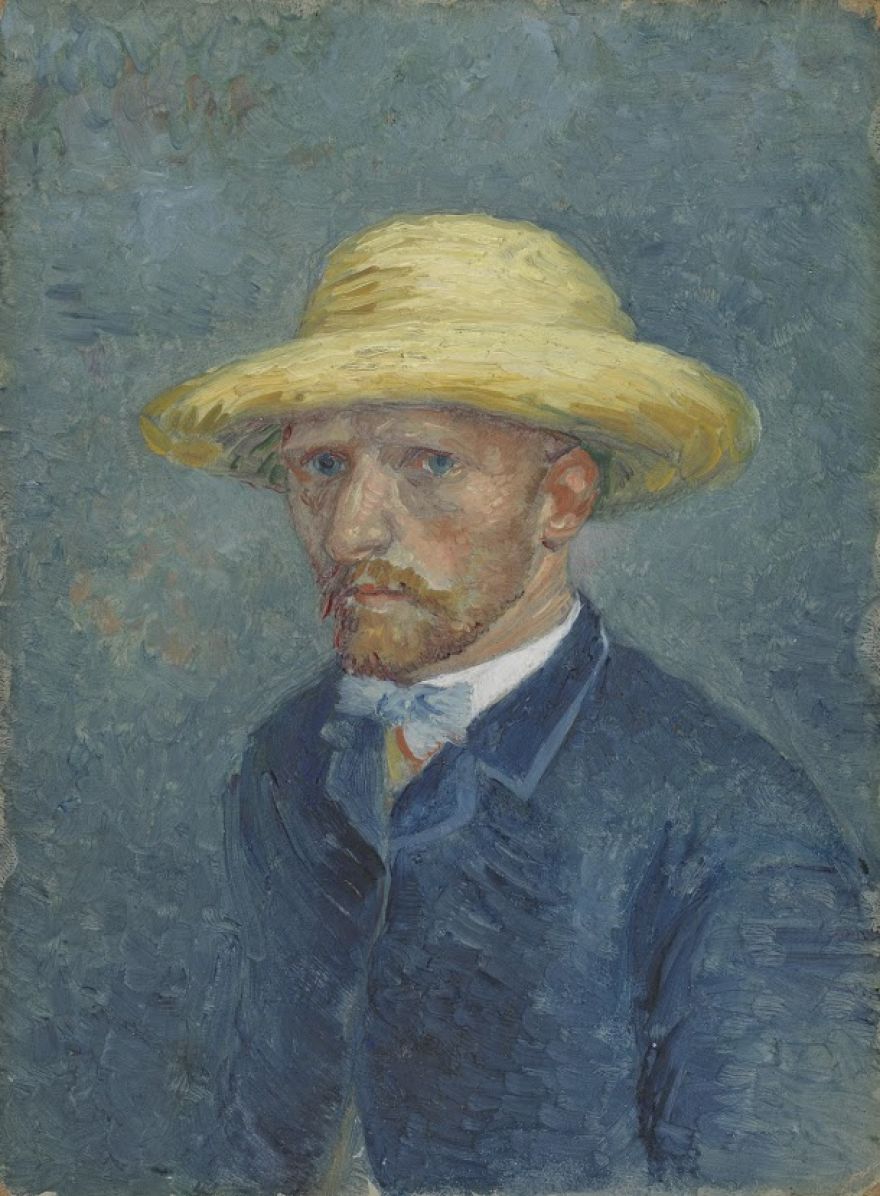 The Van Gogh museum is not sure wether it's Vincent or Theo in this portrait. It would be the only painting of his brother Theo.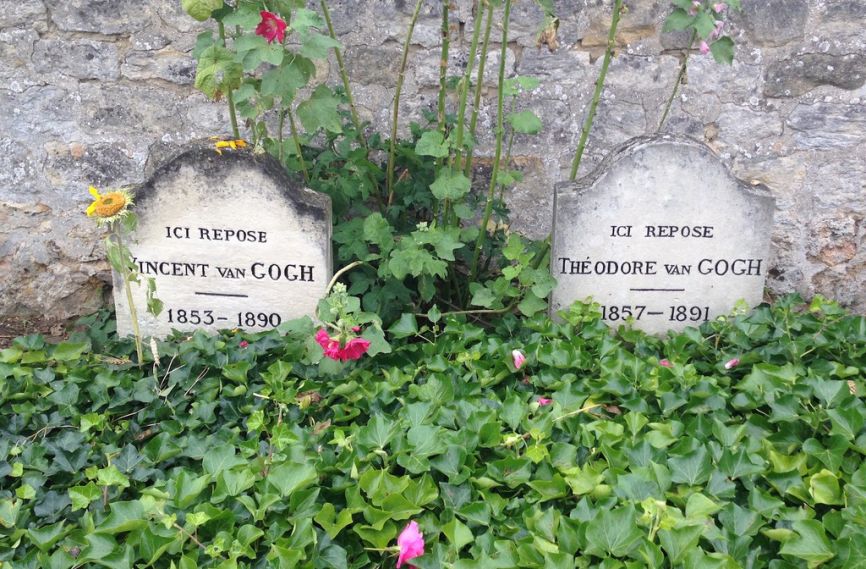 Vincent and Theo van Gogh's grave in Auvers-sur-Oise.
Flowers for a friend. Or another Van Gogh reproduction.
Van Gogh painted a series of sunflowers for his friend and fellow artist Gauguin. Gauguin's room in
The Yellow House
in Arles was nicely decorated when he moved in.
And 132 years later Van Gogh's paintings are still very much desired as home decoration. Most of the originals are in museums admired by millions of art lovers every year. Our hand-painted reproductions in oil on canvas may be the best alternative. Visit this page for
interior inspiration
.
Your Daily Dose of Van Gogh
What did Vincent van Gogh write on this day?
Find out in your
FREE Van Gogh e-book
.
Hundreds of questions answered by Van Gogh himself!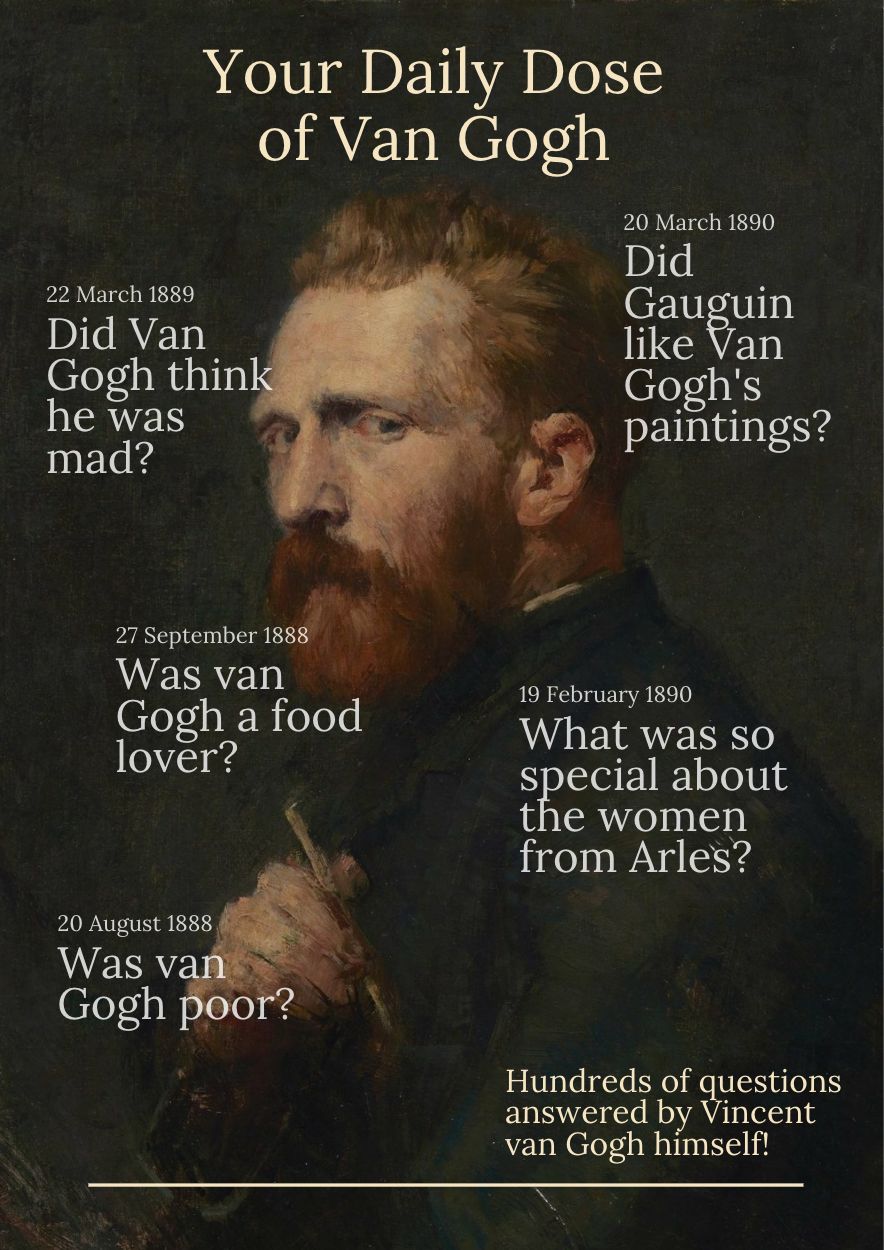 Mark Hickman
- 14-06-2021
Yes, Theo made it possible for Vincent to create his many wonderful paintings, drawings and sketches. That Vincent Van Gogh is world famous today is in no small part, attributable to the tireless work carried out by Johanna Van Gog-Bonger, Theo's widow without whom, much of what we know today may have been lost.