How important were colors to Vincent van Gogh?
Van Gogh was hoping to find warm and bright light in the South of France as in the Japanese prints that he collected in Paris. And he was extremely happy to see it was actually true.
Today 133 years ago, on 8 August 1888,
Vincent van Gogh wrote to Theo van Gogh from Arles:
"This vertical small farmhouse garden is superbly coloured in reality. The dahlias are a rich and dark purple, the double row of flowers is pink and green on one side and orange almost without greenery on the other. In the middle a low, white dahlia and a little pomegranate tree, with flowers of the most brilliant orange red, yellow-green fruit, the ground grey, the tall reeds — 'canes' — of a blue green, the fig trees emerald, the sky blue, the houses white with green windows, red roofs. In full sun in the morning, in the evening entirely bathed in shadow cast by the fig trees and reeds."
Flowering Garden
Arles, 1888
Oil on canvas
92 x 73 cm
The Metropolitan Museum of Art, New York
You may also like to read: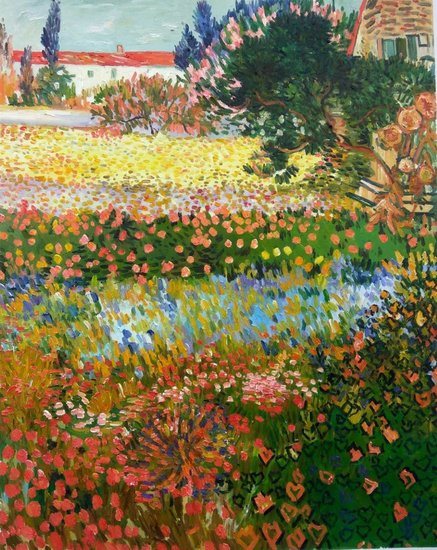 Hand-painted reproduction of Van Gogh's '
Flowering Garden
' in oil on canvas.
Your daily dose of Van Gogh.
<< previous
|
next >>