How many versions did Van Gogh make of the Langlois Bridge?
Vincent van Gogh made 4 oil paintings, 1 watercolor and 4 drawings of the Langlois Bridge near Arles. The double-beam drawbridge was made by a Dutch engineer and made Van Gogh think of his homeland. The official name was Pont de Réginelle, but everybody called the bridge after the bridgekeeper: Pont de Langlois.
Today 134 years ago, on 9 April 1888,
Vincent van Gogh wrote to Theo from Arles:

"My dear Theo, Thanks for your letter and for the 100-franc note it contained. I've sent you croquis of the paintings intended for Holland. Goes without saying that the painted studies are more brilliant in colour. Am hard at work again, still orchards in blossom."

The Langlois bridge with washerwomen
Arles, 1888
Watercolour
30 x 30 cm
Private collection

You may also like to read: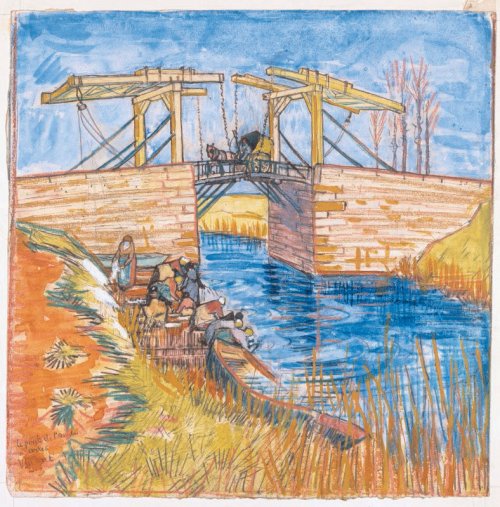 Van Gogh's 'The Langlois bridge with washerwomen'
Your daily dose of Van Gogh.
<< previous
|
next >>