How was Van Gogh's relationship with his father?
Vincent van Gogh wanted to make his father Theodorus van Gogh proud of him. But Vincent felt he disappointed his father, a pastor, by giving up his ambition to become a preacher. Vincent hoped to become a respected artist instead, but his father died in 1885 and never saw his son exhibited at major art expositions from 1888 onwards. If only his father knew..
Today 141 years ago, on 1 November 1880,
Vincent van Gogh wrote to Theo from Brussels:

"Drew The diggers by Millet after a photo by Braun that I found at Schmidt's and which he lent me with that of The evening angelus. I sent both those drawings to Pa so that he could see that I'm doing something."

The Angelus (after Millet)
Brussels, 1880
Pencil, white and red chalk, and heightened with white on (originally) grey-blue laid paper
46,8 x 61,9 cm
Kröller-Müller Museum, Otterlo, The Netherlands

You may also like to read: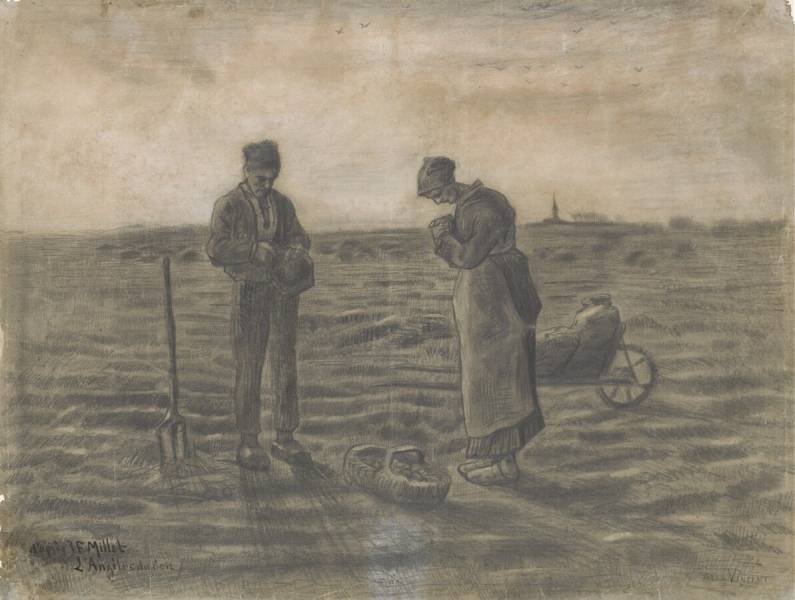 Van Gogh's 'The Angelus (after Millet)'
Your daily dose of Van Gogh.
<< previous
|
next >>