From February 28, 1886 - February 19, 1888 Van Gogh lived in Paris where he met Julien Tanguy. Tanguy was a paint grinder with a shop where he sold art and art supplies. This was one of the places where artists like Pissarro, Toulouse-Lautrec, Gauguin, Bernard and Signac met and exchanged ideas about art. A place of big importance to Van Gogh. During his time in Paris his style changed from dark to colorful, not only influenced by Japanese prints, but also by the artists that surrounded him.
Pére Tanguy
Born in 1825, Tanguy was a lot older than most of the artists (Van Gogh was born in 1853) and a father figure to them. This goodhearted man, they called him Pére (French for father) Tanguy, helped the artists by accepting their paintings as payment for paints. The paintings were put up for sale in the window of Tanguy's shop.
Emile Bernard
once described going to Tanguy's shop as "visiting a museum".
Mrs Tanguy
Even though Mrs Tanguy was not happy with her husband swapping art supplies for paintings Pére Tanguy did what he found right. Mrs Tanguy wasn't very popular among the artists anyway. This is what Van Gogh wrote to Theo in July 1887:
"… but his old witch of a wife noticed what was going on and objected to it. Now I gave Tanguy's wife a piece of my mind and said it was her fault if I wouldn't buy anything else from them. Père Tanguy's wise enough to keep quiet, and he'll do what I ask of him all the same."
3 portraits of Pére Tanguy
See video on this page. Especially the first one was still in Van Gogh's old style: dark colors and sombre atmosphere. The brighter and warmer colors started to appear in the other two portraits developing into a style that later in the South of France lead to masterpieces like the famous
Blossoming Almond Tree
, the
Cafe Terrace
,
Starry Night
and many others.
Long distance friendship
When van Gogh had moved to Arles and Saint-Rémy, Pére Tanguy was still in his heart. Theo kept buying paints from Tanguy for Vincent, so the two friends indirectly kept in touch.
Vincent wrote to Theo in April 1888:
"He's such a funny fellow and I still think of him often. Don't forget to say hello to him for me if you see him, and tell him that if he'd like any paintings for his shop window he can have some from here, and the best."
And to Theo in September 1888:
"If I manage to live to quite an old age I'll be something like père Tanguy. Ah well, as for our personal future, in fact we know nothing about it, but we nevertheless feel that Impressionism will last."
And even though Vincent was far away in Arles and Saint-Rémy, Tanguy kept helping. Theo wrote to Vincent in July 1889:
"I've rented a small room in père Tanguy's house where I've put quite a few of them… Père Tanguy has already given me a lot of help, and it's going to be very easy to let him continually have new things to show."
Friends until the end.
When Vincent van Gogh died in Auvers-sur-Oise in 1890 at age 37, Pére Tanguy attended his funeral. Theo died in 1891 at age 32. Tanguy died in 1894 at age 68.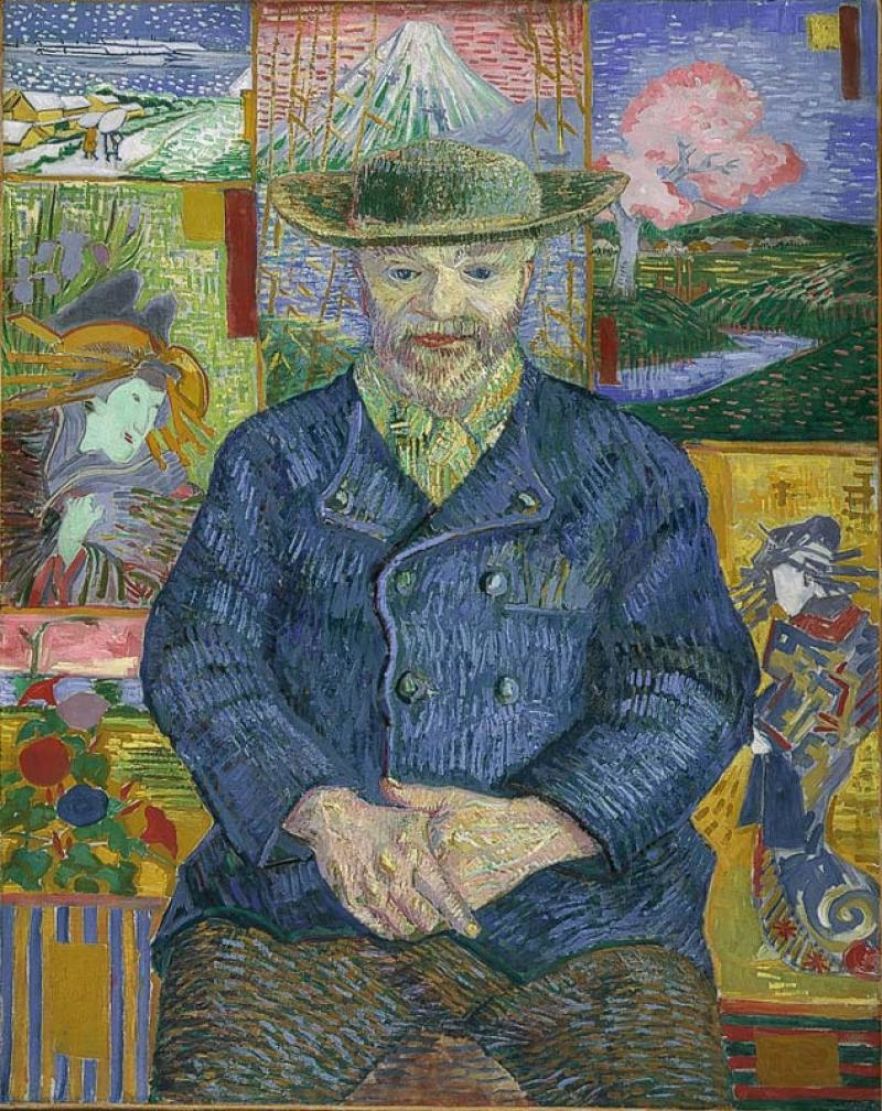 One of the 3 portraits by Van Gogh of Pére Tanguy
Buy a hand-painted reproduction of Pére Tanguy in oil on canvas
Vincent gave his Portrait of Pére Tanguy to Tanguy. When Tanguy died his daughter sold it to sculptor Auguste Rodin. The painting is part of the permanant collection of the Rodin Museum in Paris. The painting is not for sale and if it was, it would not be affordable to many people.
Our hand-painted reproduction of the
Portrait of Pére Tanguy
in oil on canvas may be your best alternative. The other portraits Van Gogh made of Tanguy are not selected on our website, but please contact us if you like to order any Van Gogh you like, in any size.
Your Daily Dose of Van Gogh
What did Vincent van Gogh write on this day?
Find out in your
FREE Van Gogh e-book
.
Hundreds of questions answered by Van Gogh himself!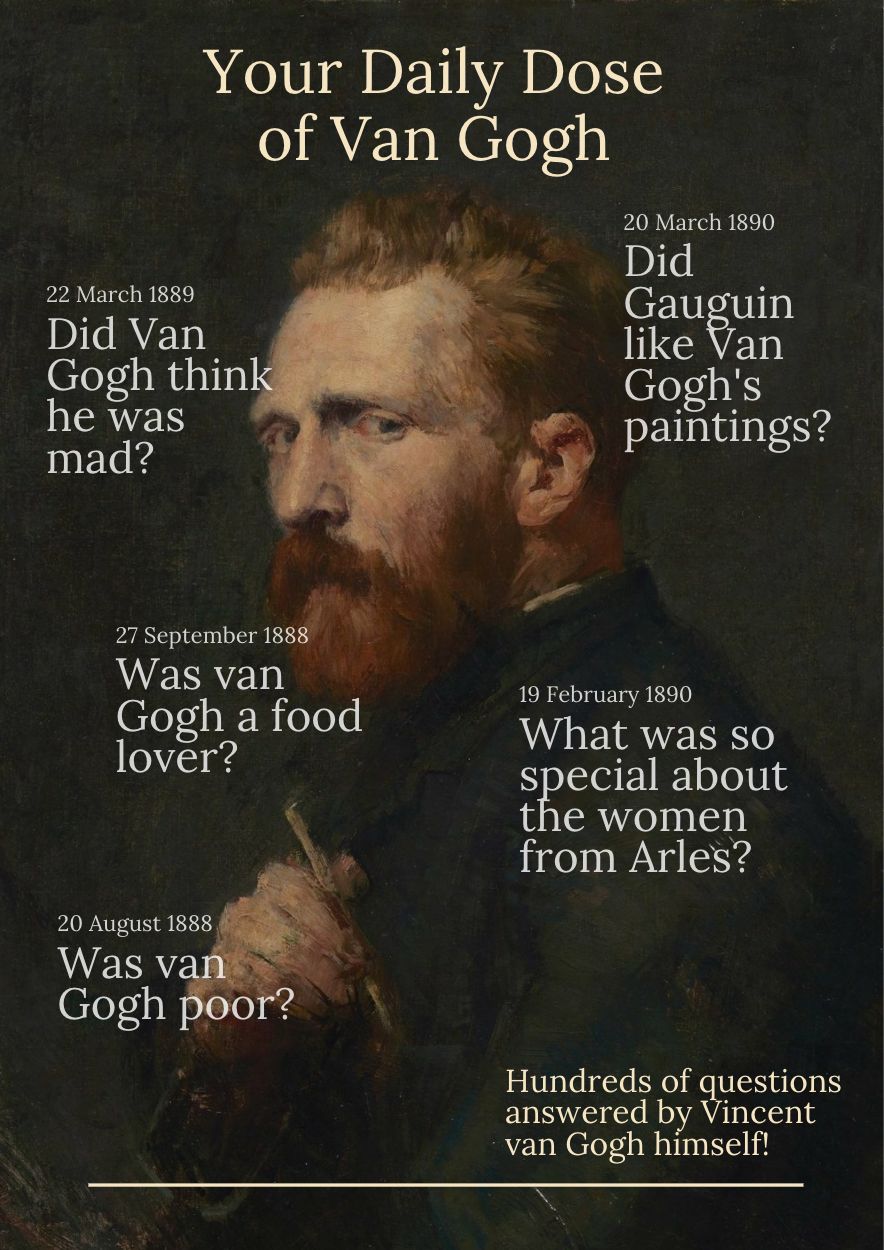 Marc
- 28-04-2020
So interesting to read about his friendships!