No, Vincent van Gogh was 'not in the least bit interested in the lottery' despite often being broke. Perhaps Theo's financial support never made Vincent even consider stepping in line for a lottery ticket.

'The curiosity and delusion about the lottery seem more or less childish to us, but it becomes serious when one thinks about the other side: misery and forlorn attempts by these poor souls to be saved, so they think, by buying a lottery ticket, paid for with pennies saved by going without food.'
Today 137 years ago, on 18 February 1886,
Vincent van Gogh wrote to Theo from Antwerp:

"My dear Theo, It's at the moment when my money has entirely gone — entirely — that I write to you again. If you can send anything, even if it were five francs, don't neglect to do it; there are still 10 days in the month and how am I to get through them? For I have absolutely nothing left."

Van Gogh painted people in line for the drawing of the national lottery:

The Poor and Money
The Hague, 1882
Chalk, watercolour, pen and ink, on paper
37,9 x 56,6 cm
Van Gogh Museum, Amsterdam

You may also like to read: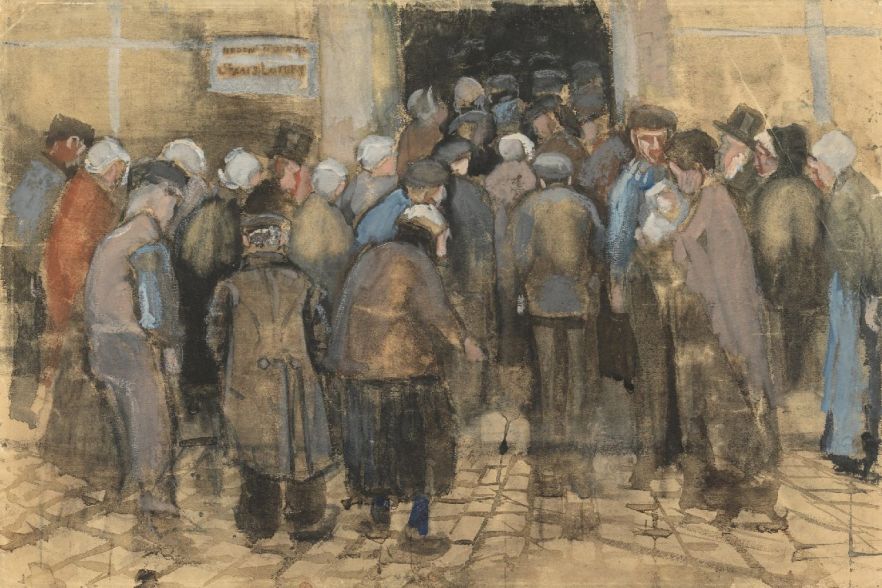 Van Gogh's 'The Poor and Money'
<< previous
|
next >>
Your Daily Dose of Van Gogh
What did Vincent van Gogh write on this day?
Find out in your
FREE Van Gogh e-book
.
Hundreds of questions answered by Van Gogh himself!