Why did Van Gogh like to paint peasant life?
Vincent van Gogh not only painted peasants as an homage to hard working laborers. He also enjoyed the subject as it gave him "peace, in the sense of peace of mind, even when one has a great struggle in material things."

Vincent seemed to love the creative part of the painting process as much as the actual application of paint onto the canvas of peasant paintngs. Did it make him feel one with nature and connect with the people around him?
Today 137 years ago, on 21 April 1885,
Vincent van Gogh wrote to Theo from Nuenen:

"I hope that the painting of those potato eaters will progress a bit. Besides that, am also working on a red sunset. To paint peasant life one has to be master of such an enormous number of things."

This could be:

Landscape with sunset
Nuenen, 1885
Oil on canvas on cardboard
35 x 43 cm
Museo Thyssen-Bornemisza, Madrid

You may also like to read: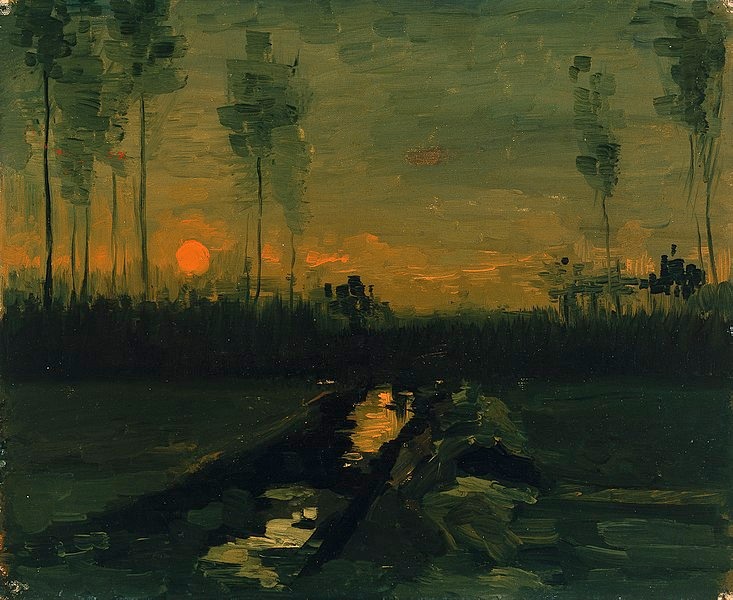 Van Gogh's 'Landscape with sunset'
<< previous
|
next >>
Your Daily Dose of Van Gogh
What did Vincent van Gogh write on this day?
Find out in your
FREE Van Gogh e-book
.
Hundreds of questions answered by Van Gogh himself!