Was Vincent van Gogh's brother Theo successful?
Vincent's younger brother Theo van Gogh became world famous as he supported the now world famous painter mentally and financially. Vincent's success can be considered brotherly team work in that sense. Theo's successful career as an art dealer made this possible. In 1880, at age 23, when his brother Vincent started painting at age 27, Theo became director of Goupil & Cie in Paris. 5 years before, it was actually Vincent who supported Theo.
Today 146 years ago, on 6 October 1875
Vincent van Gogh wrote to Theo from Paris:
"My dear Theo, Even though I wrote to you only recently, I want to do so again anyway, because I know how difficult life can sometimes be. Keep your chin up, old boy, after rain comes sunshine, just keep hoping for that. Rain and sunshine alternate on 'the road that goes uphill all the way, yes to the very end', and from time to time one also rests on 'the journey that takes the whole day long, from morn till night'. So think now and often after this, that 'this also will pass away'."
Van Gogh painted a few works depicting rain. This is one of them, painted 15 years after his letter.
Landscape at Auvers in the Rain
Auvers-sur-Oise, 1890
Oil on canvas
50 x 100 cm
National Museum of Wales, Cardiff
You may also like to read: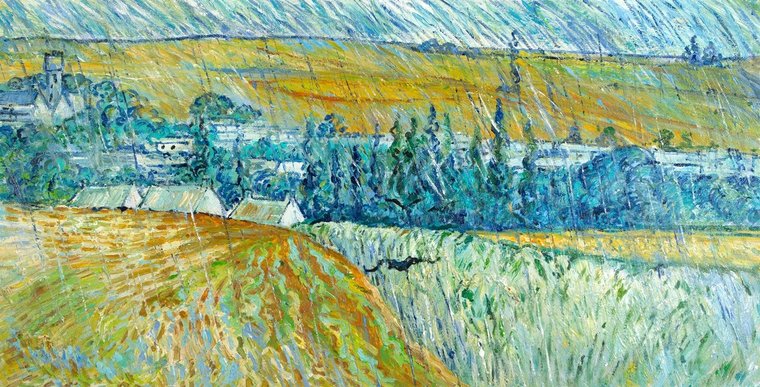 Our hand-painted reproduction of Van Gogh's '
Landscape at Auvers in the Rain
'
<< previous
|
next >>
Your Daily Dose of Van Gogh
What did Vincent van Gogh write on this day?
Find out in your
FREE Van Gogh e-book
.
Hundreds of questions answered by Van Gogh himself!