What did Van Gogh write on his 35th birthday?
On his own 35th birthday, Vincent van Gogh wrote a letter to his sister and congratulated her with her birthday! And he gave her a beautiful painting he made of a sprig of almond blossom in a glass.
Today 169 years ago, on 30 March 1853,
Vincent van Gogh was born.
"My dear sister, So as not to let your letter go unanswered I'm writing immediately upon receipt of your letter and Ma's and the good wishes from you both…
…For my part I must also wish you a happy birthday (Willemien turned 26 on 16 March 1888) — since I'd like to give you something of my work that you'll like I'll set aside a little study of a book and a flower for you — in a large format with a whole mass of books with pink, yellow, green covers and fiery red — my painting Parisian novels was the same subject."
Sprig of almond blossom in a glass
Arles, 1888
Oil on canvas
24 x 19 cm
Private collection
Auction Christie's New York, 4 November 2003
You may also like to read: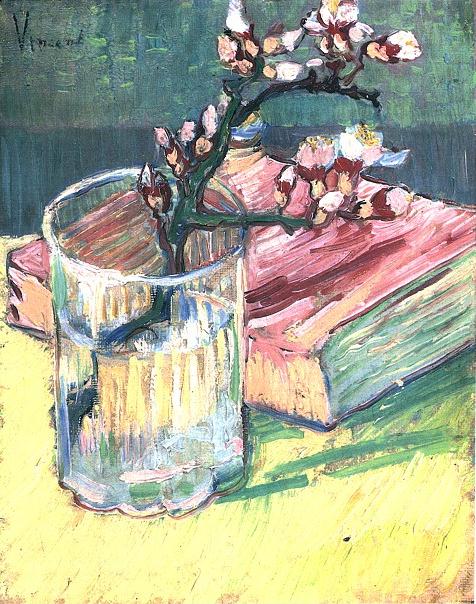 Van Gogh's '
Sprig of almond blossom in a glass
'
Your daily dose of Van Gogh.
<< previous
|
next >>